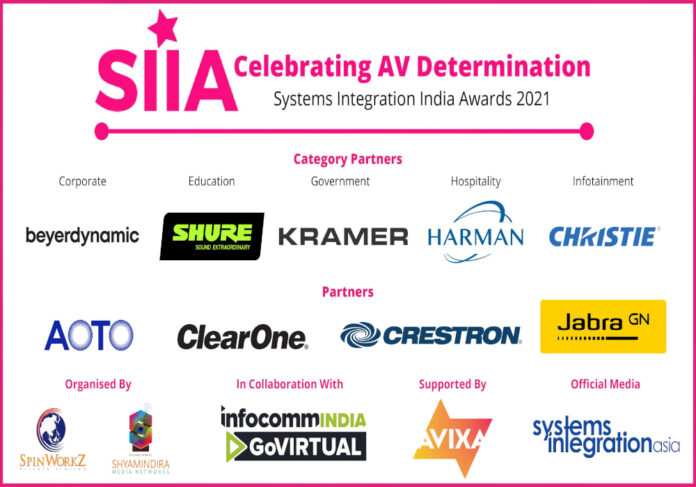 The fourth edition of Systems Integration India Awards will take place on 16th September virtually. This year's awards has been curated not just to celebrate the excellent design and integration of AV but also to connect, share, pay respects and celebrate the community spirit.
The Awards itself aims to recognise outstanding work by system integrators and consultants in five segments: Corporate, Education, Government, Hospitality and Infotainment.
"We have had a great response in terms of submissions and are looking forward to announce the winners. It is energising that despite the current situation and tight deadlines, system integrators and consultants put in the effort to send us their submissions," said Ram Bhavanashi, Director, Shyamindira Media Networks, Co-Organiser of SIIA.
This year's award will include additional elements to align itself more with the situation in India. "We have been busy with our production company to narrate a story that we hope will strike a chord with the AV industry in India. We thank all those who set aside time to be part of this production," said David Lim, Director, Industry Engagement, Spinworkz, Co-Organiser of SIIA.
"We also thank our partners for being part of this initiative," added David.
"We are pleased to be a partner of SIIA 2021 as this is all about the AV Community in India. ClearOne has been an active member of the India AV community for more than 2 decades. We saw the value of this strong opportunity in the India AV market, and have made significant investments to drive its growth and visibility as a leading market for AV industry," said Griffiths Zachariah, Associate Vice President EMEAIO Sales & Global Alliances at ClearOne.
Gagan Verma, Executive Director-India & SAARC from Crestron further added, "It has not been an easy ride for the AV industry in India since mid-last year. The awards highlight the resilience of the industry despite the circumstances, and we want to be part of that celebration and stand by the Indian AV community during this time. Crestron has been investing in India since 2017 and is committed to it being a key strategic market."
The SIIA Partners for this year are:
Category Partners:
Corporate: Beyerdynamic India Pvt Ltd
Education: Shure Audio Technologies Pvt Ltd
Government: Kramer Electronics India Pvt Ltd
Hospitality: Harman International (India) Pvt Ltd
Infotainment: Christie Digital Systems Inc.
Partners:
AOTO, ClearOne, Crestron and Jabra
Organised By: Spinworkz Pte Ltd and Shyamindira Media Networks Pvt Ltd
In Collaboration With: InfoComm India GoVirtual
Supported By: AVIXA
To register to view the awards virtually click HERE.