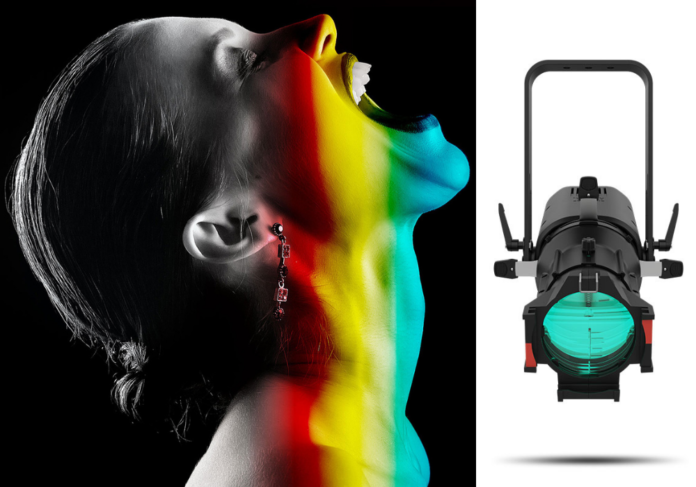 Chennai-based professional sound and lighting solutions major Lux & Decibels has introduced to Indian market Ovation Rêve E-3- said to be the brightest, multi-color LED ellipsoidal – from the American lighting major Chauvet Professional – that is also boasted for its capability to produce perfectly tunable whites.
…………………………………………
"It's a new kind of epic story-telling machine that fuses the best of both worlds into one totally reimagined LED light source," says Shiva Pillai, Managing Director of Lux & Decibels, Chauvet's Master Distributor for India.
According to him, the color temperature presets ranging from 2800K to 8000K makes the Reve E-3 maintain outstanding brightness and a high quality of light, with an emulated 'red shift' for a tungsten feel. Ovation Rêve E-3 also features several dimming curves, a virtually silent operation with fan-off modes, and a series of technician-friendly features such as an innovative, adjustable yoke that makes mounting in low clearance situations a breeze.
"With Ovation Rêve E-3, you can seamlessly transition from captivating a wide range of saturated colors in class-leading output to distinct whites with +/- green adjustments using one fixture," says Shiva. "No ifs, or buts. Simply and categorically unrivaLED."
The feature-rich lighting unit is chacterized by:
Full-spectrum LED ERS-style lighting fixture for theatre, film and production
Virtual color wheel with color matched to popular gel colors
+/- Green adjustment and emulated red-shift via DMX or on-board control
RDM (Remote Device Management) for added flexibility
Adjustable PWM (Pulse Width Modulation) to avoid flickering on camera
Virtually silent operation for use in studio, film and theatre applications
Ultra-smooth 16-bit dimming curves and speeds to complement any lighting scheme.
Innovative adjustable yoke for mounting in low clearance areas
Direct power/data connection and control options for the Ovation GR-1 gobo rotator
USB port for fixture software updates