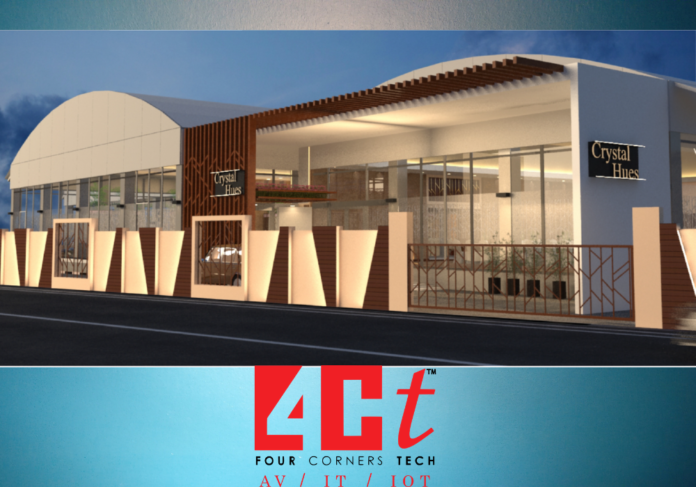 AV expanse and AV user's exposure to technology experience going places is nothing strange; Pro AV ranks and circles have been seeing this on a raising scale as AV users grow more demanding. However, a Convention Hall in Bangalore has apparently scaled beyond the conventions of the commune- notching up a slew of tech credentials, and thereby redefining the 'tradition' of using technology.
To put this in a bit of cryptic terms- it is all happening within 4 Corners (of) Technology – thanks to the Bengaluru-based IoT solutions provider.
In our Make-in-India storyline this month, we present a story of a difference. A very enterprising AV user and a solutions provider coming together to build a Convention Hall, that is truly beyond convention!
………………………………………………
A convention hall at Hebbal in Bengaluru is shaping up beyond the commonly construed conventions of its class. A measure of its scale can be gauged by the factor of its overall project budget estimated at ₹ 10 crore – with a price tag of ₹ 2 crore for technology deployment alone comprising AV, IT, IoT, and integrated building management system (IBMS).
The venue is essentially a large capacity convention hall- apparently meant for high-end segment social gatherings such as weddings, community festivals, felicitation programmes and such others. However, what takes it beyond what we are tempted to term 'beyond convention' is the scale of its technology embracement.
Consider the technology scale it manifests:
High-end AudioVisual systems with Control Automation, Live Streaming, DTH etc.
Integrated Building Management System
IoT Solution to make Smart Spaces
Network security
Smart stage lighting
Smart Information Kiosk
Get a little deeper into each of them, and see what they tell about:
IBMS Solution 
Energy management
Indoor air quality management
Water management
UPS management
GIS management
Lighting control
HVAC control
Unified Facility Management Solution
IoT Solution:
Smart Information System
Feedback System
People counting solution
Network & Security Solution:   
Structured cabling for networking infrastructure
Wired & Wireless network architecture to connect diverse solutions simultaneously
Video surveillance throughout the venue
Centralised video analytics
Audio Solution:
FOH speakers
Front Fill Speakers
Stage Monitors
Delay Speakers & Subwoofers
Live Mixer with Expander in the system
Video Solution:
Video distribution system at Main Hall and Dining Hall
PTZ cameras to capture proceedings from across the venue
Stage projection system for bigger display coverage
Large UHD displays at Main Stage, Passage way, Dining Hall for video distribution
Stage Audio system with customization for diverse events
Distributed Audio system to cover other integral parts on the premises
Stage Lighting Solution:
LED Pars
Moving Heads
LED cove lighting
Fixtures & Washes
Rush Batten Hex Fixtures
Master Control System for automation of all AV components using Smart Tab integrated with a centralized Master Control System
'Brand'ishing AV Spectrum 
Allen & Heath

AMX

Aruba

Belden

Behringer

Brightsign

Cisco

Extron

JACE by Tridium

LabGruppen

Lumens

Martin

Meraki

Omicron

Panasonic

SHURE

Turbosound

Vivotek
"It's perhaps the first of its kind Convention Hall in the country with so much technology and smart solutions going into its making on a such a scale," says Hemanth K Naidu, Head-Sales & Operations at the Four Corners Technologies Pvt Ltd, (conveniently called 4CT) one of the main movers behind the massive installation. "It actually redefines the very genre of convention halls, by bringing in solutions that are conventionally associated with corporate and industrial establishments," he explains.
According to him, every single aspect of the hall making – physical construction, network architecture, interiors and acoustics, audio-visual systems, security surveillance – bear a smart solution tag.
The 21,450-square feet sprawling premises comprises a building area of 13,600 square feet with a massive 6,320-square feet convention hall – including 1050-square feet area for its stage alone –
that is accompanied by two 474-square feet greenrooms, and 3,980-square feet dining hall, besides separate areas for rest rooms and other amenities.
"We were fortunate to get into a project of this kind that defines and describes our expertise in totality," says Madhsudhan Rao, Director at 4CT. "It seeks to set an awe-inspiring precedent and benchmark for smartly integrated solutions for venues of new age."
According to him, the client – Telecom Wires & Cables – had such a perfect and futuristic vision that they wanted to build a venue that stand a model for the years to come and future generations as well. The specifications – evolved by the project architects & designers Foley Designs – were so clear and expansive that they left no room for any compromise.
Fortunately for the solution providers, they were not constrained by budgets, despite the challenging times owing to COVID pandemic, and that enabled them to bring to place their best expanse of expertise to create a 'model' convention hall for the future.
In addition to the vast array of AV and IOT, security surveillance systems, the install required a high degree of customized solutions made it all the more special, informs Hemanth.
"A case in a point is the Smart Interactive Kiosk" he highlights. "The kiosk provides additional inputs to the audience about the facility features and amenities, besides nearby locations' details with a feedback system," he explains. "The feedback from this kiosk gives a measure their experiences to the venue operators, thereby they can consider further improvements or modifications."
Another smart technology play that is purely experiential for the users is the Unified Facility Management System to manage all systems on a single platform to monitor and control system performance, explains the IoT lead. "The system can also analyze the usage patterns of systems at various levels enabling the operators know where is maximum and minimum usage; they can further finetune their systems to better experiences."
While the Full HD live video streaming provision to remote locations is a novel thing at the centre, the enablement of centralized control of AV devices via iPAD, and or touchpanel device is yet another technology notch.
"The project is a demonstration statement for us," declares a prideful Madhusudan. "It's an integration of multiple package of solutions," he says. "We're only too happy that we did this project moving through the challenges of the pandemic, with all the health safety regulations practice in toto."
The project is set to be commissioned around June this year.