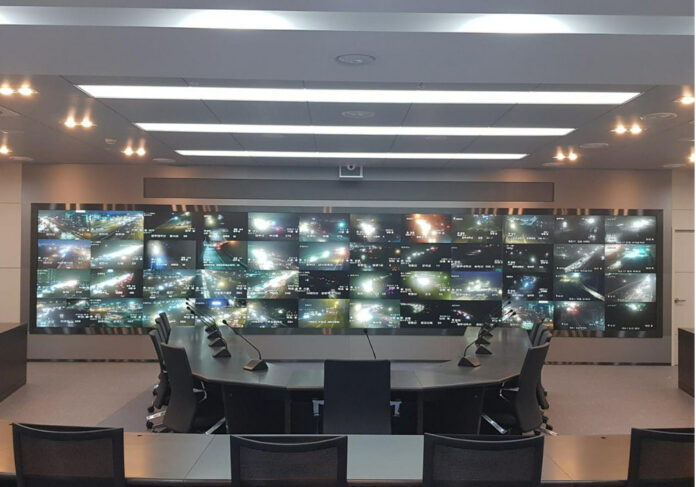 If Rear Projection Cubes (RPCs) still conjure images of huge bulky 'boxes' that run off lamp-based technology, then think again! RPC technology has evolved a lot over the years. RPCs now feature LED or laser light sources, a longer extended lifespan and improved design occupying lesser space than their predecessors. And even though LCD and direct-view LED technologies hog the headlines, RPCs might be the best choice for your control room video wall. It is interesting to know that there are still thousands and thousands of RPCs operational in the control room segment worldwide. These workhorses continue to provide users with the tools they require to get their job done.
RPC brings several advantages to the control room. RPC shows no burn-in effects, making it ideal for SCADA-like static content with dominantly dark backgrounds. The cubes can be stacked on top of and next to each other with almost zero bezel space, thus providing a full near-seamless canvas. The images displayed on an RPC video wall are also typically very stable and uniform, giving excellent visual performance over the entire wall. With Barco's guarantee of over ten years of serviceability, RPC technology is also suited for the long haul. RPCs are thus perfect for mid-sized to large-sized walls for the above reasons and cost considerations.
"Barco has been involved in the control room segment for about 30 years, and we are unique in offering end-to-end solutions across the whole signal chain in the control room space. We offer all three dominant technologies for control room video walls: RPC, LED and direct-view LED. Our goal is to enable the deployment of the right technology for every application. From that aspect, we continue to see a substantial sales volume for RPCs and are committed to constantly improving and developing this technology. The newly launched next-generation MVL-721 RPC reinforces our commitment to our existing customers using this technology and shows our continuous development in this area to meet theirs, as well as new customers' current and future needs," said Jordan Heldrich, Segment Marketing Manager of Control Rooms, Barco.
The next-generation MVL-721 featuring high light output and low power consumption has also met Barco's eco-green score via the company's stringent Eco score methodology. This makes the product a perfect fit in Barco's corporate sustainability strategy, contributing to the company's ambition to reduce the ecological footprint of its customers.
"The improved brightness of the next-generation MVL-721 ensures that content is visible even in a brightly lit environment. Furthermore, the light source lifetime of this MVL-721 offers more than 100,000 hours in both normal and eco-mode. In addition, the redundancy of all critical components ensures uptime of the system in 24/7 operations. These are all important matters for a critical environment such as a control room," added Jordan.
The next-generation MVL-721 uses Barco's Video wall Manager software, making it easy to install, configure and control the video wall. Ease of operation is even more pronounced with the new Video wall Management Suite, a cloud-based remote monitoring and diagnostics solution for Barco video walls. It offers AV system integrators and managed service providers the possibility of remotely managing the complete installed base from a central location. This lowers operational costs due to fewer on-site interventions being necessary and ensures faster and more effective troubleshooting and increased customer satisfaction.
"The next-generation MVL-721 excels in image quality, reliability and sustainability, which are all key value drivers within control rooms. For new customers looking into RPC technology, the advantages offered by the MVL-721 would be a strong contender. Current customers looking to upgrade their RPC technology in a cost-effective and fast way, can also benefit from an RPC upgrade to a completely new technology. This prolongs the lifetime of the system with another 10 years of operation," said Olivier Croly, Senior Vice President, Barco APAC.
Olivier further added, "The next-generation MVL-721, together with our unique operator's work desk solution OpSpace also improves efficiency significantly in the control room. OpSpace integrates all applications into a single integrated workspace. With just one click, operators can call any application into view – reducing navigation time and notably improving the overview of any situation. Furthermore, OpSpace offers flexibility for now and in the future as it is agnostic to source and network types."
If you are interested in knowing more about the next-generation MVL-721 and Barco's other visual display offerings and OpSpace, or if you would like to visit a Barco Experience Centre near you, click HERE.