The House of Future (HoF), located at Plaza Indonesia, Level 3, is an Experience Creative Gallery Store for all technology needs, from audio-visual to future technologies (IoT, AI, VR, XR, AR, Metaverse & Robotics), targeted at consumers right up to commercial users. HoF is the brainchild of V2 Indonesia, a subsidiary of PT M Cash Integrasi Tbk (IDX: MCAS).
V2 Indonesia is a company that focuses on high-tech audio-visual solutions and has long prioritised the latest developments in innovation and technology in every activity. "V2 has always aspired to be a technology pioneer by importing and advancing current technologies from around the world. Because we want to be innovators, we needed a space that could help people experience, interact and even try [the technology] for their personal or business needs," said Rudi Hidayat, CEO of V2 Indonesia.
With the theme "Seeing is Believing", HoF presents a high-end and futuristic store appearance. Once inside, visitors are greeted with 3D LEDs that display realistic, imaginative 3D video content. V2 Indonesia has also equipped HoF with Artificial Intelligence (AI) from Intel which can detect and count the number of incoming and outgoing visitors. It is also equipped with a face recognition feature that can identify and confirm the identity of visitors through their faces.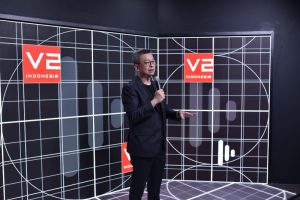 For visitors who want to experience the Metaverse world, HoF has prepared Extended Reality (XR) and Virtual Reality (VR) zones. V2 Indonesia has made a breakthrough by venturing into XR technology to support immersive hybrid events in the future with technology from disguise. In this space, customers can experience an extended reality (XR) experience that allows them to blend the virtual into a live production environment to create a fully immersive experience. At HoF, creators such as filmmakers, commercials and other audio-visual content producers are welcome to use the space to produce XR-based visual content directly and experience the outcome.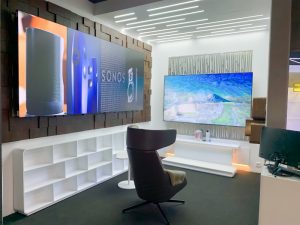 Collaborating with Meta, HoF also presents a Horizon Work Room to be able to conduct
metaverse meetings using Meta Quest 2. "We will show clients and customers that this is real, and also to show them how they can have Metaverse meetings through VR. In the future, it will probably be more seamless like using regular glasses; if that happens, we will also update our latest technology," continued Rudi.
Other than that, a Podcast area within HoF can be used to create in-house content or introduce the latest technology from clients and partners. "We welcome podcasters and anybody who wants to showcase their technology, and we will broadcast their content on YouTube to demonstrate Indonesia's technological future. We want to highlight technologies that already exist in Indonesia, not just dreams," added Rudi.
Furthermore, other technology rooms located at HoF include the Retail area, a particular
room that displays modern advertising differently. IoT (Internet of Things) supports the technology in this room. RFID sensor digital signage and Spark AR from Meta to display Augmented Reality images in motions can also be experienced in this area.
Next is the Listening area; this room will give customers the comfort and experience of listening to music with wireless technology and the latest applications, supported by Dolby Atmos. The Technology Lounge, on the other hand, is a place where customers can get the best experience for remote-controlled LED display and enjoy VR games experience. Finally, the last room is the Command Center using Lighthouse technology, with the world slimmest depth panel with 2.4cm and 1.5 pixel pitch, where the customers can understand face tracking & IoT technology experience from Intel. The experience of meetings via the Horizon Workroom from Meta can also be experienced at the Command Center.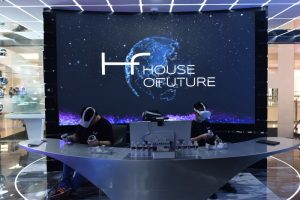 To create the best in experience with the latest in technology at the House of Future, V2 Indonesia collaborated with several brands and partners. These included Meta, Intel, disguise, Visionaries 777, Digital Domain and 99 Virtual Race (99VR).
Digital Domain is the pioneer in creating transportive experiences. Throughout the last 29
years, the award-winning visual effects studio has beefed up its arm of virtual reality and virtual humans globally. "We're glad to join forces with V2 Indonesia at HoF to further pave the way into the Universe and the Metaverse," said Charlie Pai, Vice President of Business Development of Digital Domain.
"Leaning into cutting-edge technologies, we're certain this venue is about to fully enable audiences to embrace exceptional experiences."
Visionaries 777, an interactive software solutions company from Hong Kong SAR, is also pleased to join forces with V2 Indonesia at HoF with its application 'Inspekly'. The application aims to improve operational efficiency by digitalising previously manual and time-consuming processes. This includes an agile approach for collecting inspection records, resulting in consistent data capturing strategies that will enhance site awareness through Augmented Reality technology.
Steven Cheng, Visionaries 777 Project Manager, said, "The chance to work with V2 Indonesia provided an opportunity to improve our product for the APAC regions. We look forward to future collaborations with V2 Indonesia to deliver excellent tools for the local business. I'm incredibly proud of my team's dedication to this project and their pursuit to create and develop new technologies that can improve businesses across the regions."
99 Virtual Race (99VR) is a platform that encourages everyone to participate in sports as part of a healthy lifestyle. According to that vision, 99VR has committed to delivering a more exciting and immersive sports experience through Metaverse. "We are so glad and grateful for the collaboration with V2 Indonesia in this House of Future," said Stevie Go, Founder and CEO of 99 Virtual Race.
"We hope HoF will be on top of people's minds when they want to experience, understand and implement technology. We will continue to bring up-to-date technology to HoF so that consumers and organisations can benefit from this space. In the future, we hope that V2 Indonesia can be a pioneer for every use of the latest technology in the country," concluded Rudi.