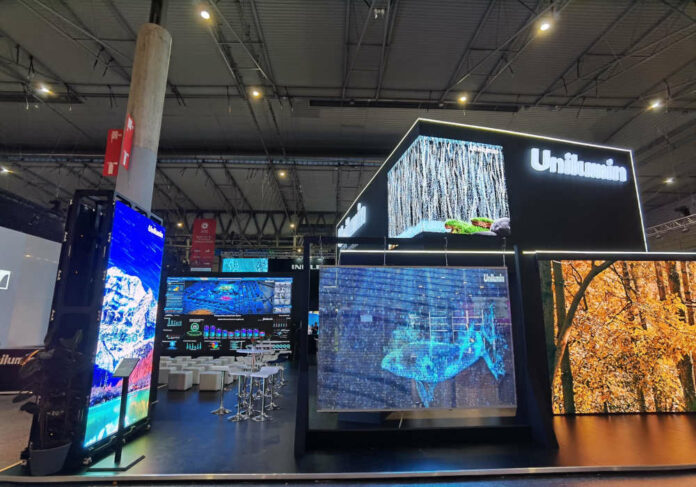 Leading Smart LED lighting and display manufacturer, Unilumin, took the opportunity of the ISE Barcelona debut exhibition (ISE – Fira Barcelona, Spain – 10-13 May 2022) to pronounce the way forward is 'Together, for a Brighter Future' on stand 3C400, whilst showcasing two new technology lines from the company's world-leading multi-scenario application solutions spanning seven market segments: Unilumin's UMini series, high impact interior display and Unilumin's USH, HD outdoor display for high-end business districts.
Unilumin's latest Mini LED technology innovation, UMini series made its European introduction on the stand in the form of UMini 0.7 4K – the finest pitch available in the series which also offers 0.9 and 1.2mm. The small but mighty 150mm x 337.5mm HDR-capable display module with TBS technology is built to catch the eye, giving rich, cinema-grade dynamics with 28 trillion+ colours at 600 Nits (with a potential for 2,000), a contrast ratio of up to 20,000:1 – and from a very wide, 180-degree viewing angle.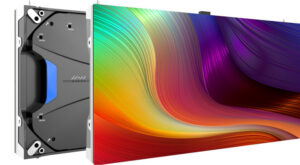 Suitable for a range of applications including home, broadcast, boardroom or control centre, the UMini series offers an incredible viewing experience with technologies to support ease on the eyes for prolonged viewing. UMini series's superior Chip-On-Board (COB) package with Enhanced Black Level (EBL) technology creates punchy visuals in high light situations whilst also protecting the display from moisture, dust and general use.
User convenience has led to the design of UMini series. A standard back strip makes wall-mounting a breeze, but maintenance is simple however UMini series is installed, with capabilities for both front and rear maintenance. Simple to operate, UMini series supports remote control and presents a range of one-key functionality (standby, brightness adjustment, smart dehumidification, colour gamut conversion and factory settings restoration amongst others.)
Meanwhile, for the luxury DOOH market, Unilumin debuted its USH small pitch outdoor display, designed to support any high-end business space, from commercial centres, business airports, luxury stores or hotels. The USH range packages superior visual experience with extreme stability and ultra-high protection, meeting as it does, the most stringent IP69K rating.
With safety and longevity assured, USH is flexible and free to meet the extremes of design and advertising expectations. Unilumin's USH will give you right angles and curved arcs; can be wall-mounted or embedded to perfectly integrate with its surroundings. With wide 140-degree / 120-degree viewing angles, Unilumin's USH is eye-catching indeed, reaching its viewer from quite a distance.
The product's colour credentials are even more impressive, with 4K achievable at just 16.5 square metres due to its high-density LED array. Combined with HDR capabilities and a refresh rate of 4800Hz, your message will never be clearer, or rich as the contrast ratio gears up to 4500:1 to enhance the details.
Johnson Ruan, General Manager of Unilumin International Sales Center said, "The interest in these two products alone was unprecedented. Unilumin LED displays have, for six consecutive years since 2021, ranked first in the industry and across the world in terms of both sales and shipping and visitors to ISE this year were very interested in the new technologies we showcased."