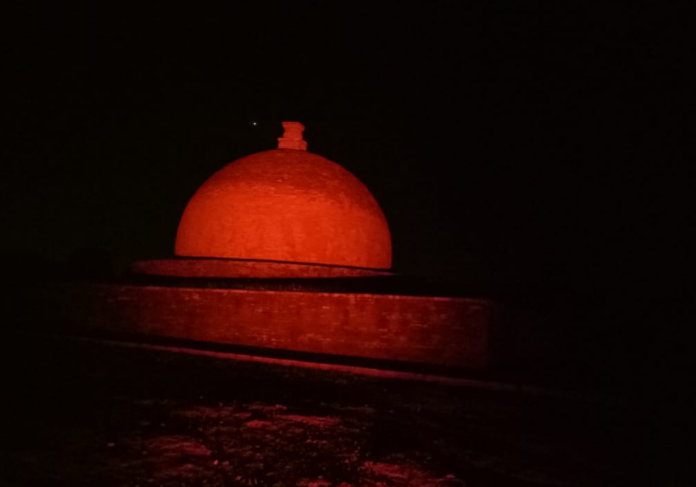 Unearthing historical heritage and representing it to people in all its glory with the aid of modern technology is nothing new. Governments and local administrations worldwide take different approaches to different historical sites depending upon their vision and demands of the sites in question.  This is more so for India, a country known for its fascinating antiquity characterized by countless number of historical repositories.
Here is one story- created jointly by Andhra Pradesh Tourism Development Corporation and Veerel Enterprises. Read on.
………………………………..
Thotlakonda Buddhist Complex – located a hilltop near Bheemunipatnam, some 15 km from Visakhapatnam, the picturesque port city of Andhra Pradesh – is one among the most valued historical repositories of the country. For, the sheer antiquity and their crucial links to ancient India's religious as well as commercial riches across the seas have shaped the Oriental World history in its own unique way.
The Thotlakonda hillock – meaning the 'hill of tanks' – while it derived its name from the numerous rock-cut cisterns hewn into its bedrock, it occupied a 'high' spot in ancient Indian history, with over 500 years of transoceanic diffusion of cultural heritage, besides trade & commerce.
That it stood a good 128 meters above the sea level, overlooking the fascinatingly blue and calm Bay of Bengal and Indian Ocean it provided a very peaceful and salubrious climate for the transoceanic travellers and emissaries alike. As matter of Indian genius in many aspects, it also falls on the same longitude as other Buddist centres such as Saranath, Kushinagar and Lumbini, it made for a very pleasant transit halt for tourists as well.
Owing to its natural port setting, and locationing, the place did enjoy a 'high' spot for roughly 500 years- from 2nd century BCE to 2nd century CE, with brisk Roman trade and religious missions.  The lofty stupas shining bright during the day – with their light lime plaster, and glowing with rows of wick lamps during nights – apparently served as guiding landmarks for nautical commuters.
The courses and currents of history thereafter masked it into oblivion.
Fast forward, thanks to the efforts of Indian Navy and Archaeological Survey of India, it emerged to be huge treasure trove of history and heritage in late 1990s, as the excavations revealed Satavahana dynastic tenets, trade links with Romans, Buddhist stupas, stucco decorative artefacts, sculpted panels, inscriptions and more.
Having found the historical trove, the Andhra Pradesh Tourism Development Corporation took time and ideated to bring it to life under the Government of India's PRASAD (Pilgrimage Rejuvenation and Spiritual Augmentation Drive) Scheme.
Bengaluru-based lighting solutions provider Veerel Enterprises got the prestigious job following a due diligence process, and wove a lighting scheme as per the APTDC specifications, and in accordance with the archaeological guidelines to avoid tampering with the original structure.
"The objective was not just to restore the site to their best possible originality, but also to make them breathe life so that they convey the message of their importance to people," says Anitha Rao, chief of Veerel Enterprises. "That the site is on a hilltop, it is visible from the Highway and the nearby village(s) from a distance during the day," she said. "However, they go out of sight as night sets in; it was here that the APTDC ideated the thematic illumination so that they are visible both day and night, while communicating to people the message of peace and harmony that so intensely characterized Budhism and influenced the Oriental World."
Accordingly, Veerel Enterprises evolved a lighting scheme it called an Intelligent and Dynamic Illumination- working under the guidance of APTDC's Executive Director for the project P Satyanarayana, and Deputy Executive Engineer Narasimha Rao whose mandate was to protect and preserve the original structural character of the monument, even as they try to glorify it in colourful lights.
The solution provider first mapped the entire structure, and worked out the analytics on what sort of illumination will breathe life without harming the environment and essentially the structure. It had to be an absolutely low power-consuming set-up, and fully automated, no manual intervention in the process of things.
Veerel Enterprises' Project Manager for the job A P Badreesan worked with assistance from two other Project Managers – Arun Rao for systems integration and Pugazh for Installation – to implement the lighting installation.
The lighting therefore consisted:
32 units of Rinbo lights
3 units of Visual Productions B Station
3 units of Rinbo Opto Isolators
3 units of Schneider Professional Timers
"For a change, time and money were not the challenge here," recalls the integrator. "It's the very historical nature and archaeological importance that needed utmost attention while working on the site," she explains, "fortunately for us, we understand the subject, and importance attached to it."
The Rs. 1.2 Crore project was commenced in late 2019 but the subsequent COVID-19 restrictions have had their delays, and it was commissioned recently.
In fact, APTDC is keen on implementing lighting scheme at the adjacent Bojjanakonda site, and the more famous Shalihundam site as well under the PRASAD scheme, and has pushed the process to the next stage of persuasion.