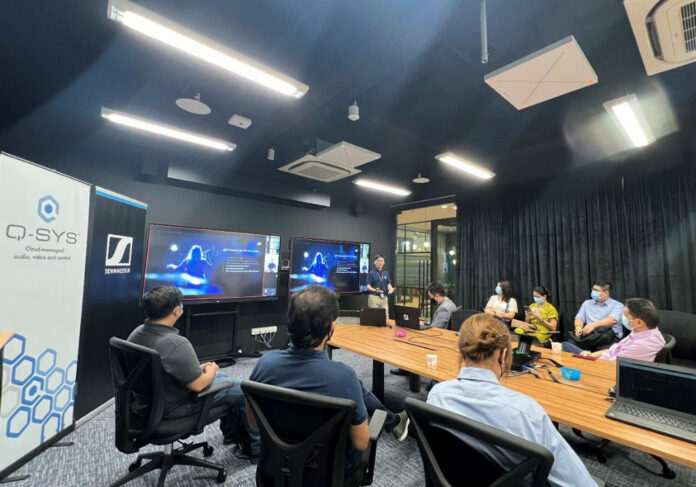 On 7th June, Sennheiser opened its new demo room in Singapore, giving a glimpse of the future of meeting spaces. For their opening event between 7 – 10 June, they partnered with QSC to showcase their latest solutions to more than 130 industry partners and end users and how products from both companies can work seamlessly together. Located at its current office, the demo room is fitted with the Team Connect Ceiling 2 (TCC2) and the Team Connect Intelligent Speaker (TCISP) that was launched earlier this year. The demo room also features the Q-SYS PTZ Conference Camera and Sennheiser's SpeechLine digital wireless.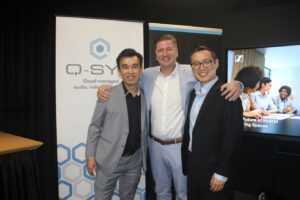 "We are really excited to launch this demo room as it gives our partners and customers an opportunity to experience how our solutions work in person. This is also our first event since the pandemic, and it's good to meet our partners and customers again after such a long time," said John Oh, Sales Director for Business Communication, Sennheiser Electronic Asia.
With the opening of this demo room, Sennheiser can now showcase a whole suite of its own solutions in a customer-centric environment where product demonstration and face-to-face interactions can take place. This allows customers to decide for themselves what would best meet their needs. Sennheiser also shared that the demo room serves as a meeting space for colleagues on days without sales demos, making the space even more purposeful.
Sennheiser EW-DX
During the event, Sennheiser unveiled its plans for expansion of its Evolution Wireless Digital Family of radio microphones. The global announcement was made in conjunction with InfoComm 2022, which took place in Las Vegas, where the samples of EW-DX were on display. Sennheiser's Technical Application Engineer Kenan Phang gave the guests a deep dive into this upcoming solution and how its advanced features, increase scalability and enhanced monitoring and control make EW-DX a powerful and reliable system. He also explained the various applications in the Education and Corporate verticals.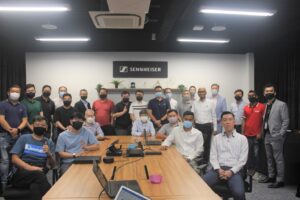 Sennheiser Consultant and SI Handbook
Besides product demonstration by both Sennheiser and Q-SYS, Sennheiser also announced the launch of its Consultant and System Integrator Handbook in the coming months. "The consultant playbook is created as a convenient tool to allow for easy comparison of Sennheiser's products so that our partners can find a suitable solution within Sennheiser's suite of offerings for their customers effectively and efficiently," said Kenan Phang, RF Engineer, Sennheiser Electronic Asia.
The consultant playbook will include information like Modulation Type, Frequency Band and an indication for audio quality, range and even budget, which will be a handy and convenient tool for easy reference and comparison.