The control room segment in APAC is expected to grow at a healthy rate over the next few years.
According to FutureSouce Consulting Insights on control rooms, nearly 10,000 more control rooms are expected to become operational globally by 2025, with the majority of growth centred in the APAC region, particularly in countries like China, India and Malaysia. Smart cities driven by governments is witnessing a significant increase in the region, with smart technologies being implemented to monitor city infrastructures and managing everything from transportation, energy, public safety, security and utilities. Other factors driving the growth of control rooms include new requirements such as the necessity to control, distribute, and manage more sources and information, communicate securely with remote decision-makers, and upgrade older technologies.
For a fuller picture of the opportunities in the control room segment, read HERE.
Different components need to come together seamlessly to meet the demands of a control room. There are also new trends that a systems integrator needs to consider for the modern control room, such as IP-based solutions, remote communications and a more effective operator's space. There are, of course, a plethora of solutions available in the market for the systems integrator's consideration to fulfil the objectives of the control room. However, Barco stands out in one aspect; the company offers end-to-end solutions across the whole signal chain in the control room. With Barco, system integrators have the flexibility of providing a complete solution or to fill in specific requirements.
Barco has been involved in the control room segment for 30 years and has used its extensive experience to introduce state-of-the-art solutions to match current and future needs.
The Operator's Workspace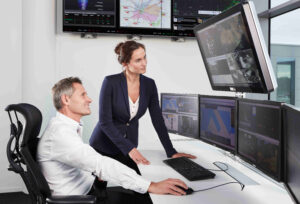 Operators are the heartbeat of the control room operations. Focus on operators' comfort has always been a priority, from the table height, comfort of the chair, sight-lines of the main video wall and even lighting. Operators generally have a few display monitors and keyboards, and mouse to monitor different areas and data.
As operators spend hours at their work desks and need to be focused, there has been continuous R&D on creating a better work environment that would further improve productivity and efficiency for operators and decrease fatigue.
Can there be less clutter in the operator's workspace for a better work environment? Can the operator work more efficiently with less keyboards and mouse? Can the operator continue with their usual working style without needing to relearn when new technology is implemented? Can an operator work comfortably from any desktop space with their familiar desktop settings?
The answer to all of the above is a resounding Yes with Barco's OpSpace. OpSpace reduces the clutter and brings simplicity back to the workflow, both on-screen and on the desk. All relevant information can be consulted and manipulated within a single pixel space, with just one mouse and keyboard. With just one click, operators can call any application into view – reducing navigation time and significantly improving the overview of any situation.
OpSpace offers flexibility for now and in the future as it is agnostic to source and network types. This means adding new applications to the operator's workflow is a breeze. OpSpace is easy to install, maintain and upgrade. It provides secure access to hosts across multiple security domains.
BARCO INVITES YOU TO CONNECT WITH THEM FOR A NON-OBLIGATORY DISCUSSION FOR YOUR NEXT CONTROL ROOM PROJECT. TO CONNECT OR VISIT BARCO'S EXPERIENCE CENTRE CLICK

HERE

.

Secure Transmissions
There is also a growing demand for transmitting and receiving images and data remotely for quicker and better decision making. The ability to highlight concerns to a field engineer from the control room by sending images to their device will enable the engineer to identify and report back quickly. Two-way transmissions help to ensure that everyone is on the same page. Similarly, key decision-makers may not always be within walking distance of their control centre. The ability to transmit images and data to their device will be productive and beneficial. Ensuring secure transmissions is also a must for sensitive spaces. Barco's SecureStream meets all these demands.
Operators simply drag and drop video or data sources into a SecureStream channel to quickly inform and consult external stakeholders. In this way, authorised external people get a complete situational overview, contributing to better and faster decision-making.
This simplicity of operation does not conflict with the solution's security! SecureStream is designed with safety at heart. The system uses both on-premise and cloud technology to stream the content to the receivers. This hybrid on-premise and Software-as-a-Service (SaaS) configuration help lower the risk of intrusion on the enterprise network and maximise security.
OpSpace and SecureStream fulfil the new demands of control rooms and are future-proof as well.
Video Wall Technology
The more extensive control rooms feature video walls on the visualisation front that offer operators and decision-makers an unimpeded view of all images and data. Video walls provide the ability to view content from different sources on a large canvas. Video wall display technologies include rear-projection cubes, tiled LCDs, or direct-view LED. The type of technology required for the primary visualisation solution would depend on the size of the room, lighting conditions, the kind of content to be displayed and considerations for future planning in terms of ease of replacements and upgrades. As a leader in the visualisation space, Barco is one of the few manufacturers that offer all three dominant video wall technologies.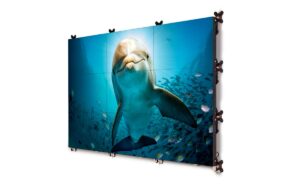 Barco's ultra-narrow bezel LCD video wall series require minimal space and excel in image quality and overall reliability. Barco's LCD panels feature SenseX built-in sensors to accurately detect the brightness and colour performance of each screen in real-time. This feature is extremely useful as over a long period of use, brightness and colour of each panel will be impacted. Using Barco's unique algorithms, SenseX automatically calibrates each LCD panel to the desired levels to achieve a uniform video wall display. The calibration process can be run in the background without disrupting the image on the wall, resulting in a very uniform and stable image over time, thus extending the LCD's usage.
Generally highly critical control rooms prefer that their visualization displays are bezel-free. This is where LED video walls excel. Because they are bezel-free, it is possible to spread content over larger areas of the display canvas. Alphanumeric content is also never interrupted and therefore always perfectly readable. LED video walls can also perform in highly bright conditions and offer resolutions catered to your needs unlike the fixed resolutions of LCD displays and rear-projection cubes.
Barco is an innovator in indoor and outdoor LED video walls since the 1990s. Their expertise in LED technology not only enables them to provide fine pitch led tiles, but also the unique Infinipix image processing feature. The Infinipix processor enables users to dim the video wall system in real time to the desired level, without compromising in colours or image quality. In this way, Barco guarantees high impact of the led display solution in any environment and lighting condition.
Offering further value is Barco's cloud-based Video Wall Management Suite. Users can choose from three subscription models that suits their needs to manage their video wall. These are Monitor, Diagnose and Control models.
The Management Suite provides usage data and critical operational parameters information in real-time. Users can also diagnose and solve issues before they turn into failures thanks to the e-mail warning notifications. You have all the tools for more effective and prompt remote assistance.
Providing flexibility and user-friendliness, the Management Suite can be accessed through any device with internet access without any compromise in security. Thanks to the encrypted communication and turn off connectivity at any moment in the device settings, users will have peace of mind using the Management Suite.
Barco's Video wall Management Suite is based on Microsoft Azure cloud technology.
Video Wall Controllers
Video Wall Controllers are essential tools that help with content distribution from different sources and managing the content for the video wall. Video wall controllers can manipulate content such as scaling images up or down whilst maintaining high quality or provide customised video wall layouts such as split or picture-in-picture options. There are different types of video wall controllers to fit specific requirements.
Barco offers a range of single-wall video controllers to network-centric multi-screen video wall controllers for content distribution to the video wall.
Single wall video controllers are generally used for stand-alone video walls not part of an extensive network. Examples of such video walls would be office lobbies or simple digital signage applications. The video wall controller options that Barco offers for these installations range from a simple 2×2 to 64 displays control.
On the other hand, you will require Network-centric multi-screen video wall controllers when the video wall is integrated within a sizeable networked visualisation infrastructure that displays images coming from many different sources located in many other places around the world.
Barco's TransForm N networked visualisation system is the leading platform for information distribution to and between control rooms. The system is fully modular, so it grows with your needs. Adding additional sources or destinations (single monitors or full video walls) to this infrastructure is just a matter of plugging in extra input or output nodes.
An important parameter in selecting your video wall controller is the operating system. Barco offers both Windows and a slightly adapted Linux version, covering most operating systems in a control room.
Barco and You
"Barco's approach to control room solutions has always provided the complete portfolio to 'view better, share faster, resolve quicker'. With Barco, system integrators can install all the critical solutions required for a control room or offer piece-meal solutions for specific requirements. Barco offers the best possible solution for every customer, depending on requirements, usage, and budget along with 24/7 customer support. With that in mind, we invite system integrators to collaborate with Barco for their next control room project," said Ta Loong Gan, Managing Director, Barco SEA and Vice President Immersive Experience, Barco APAC.
If you are interested in visiting Barco's Experience Centre or understanding Barco's solutions and connecting with a Barco control room professional to collaborate on a project, click HERE.