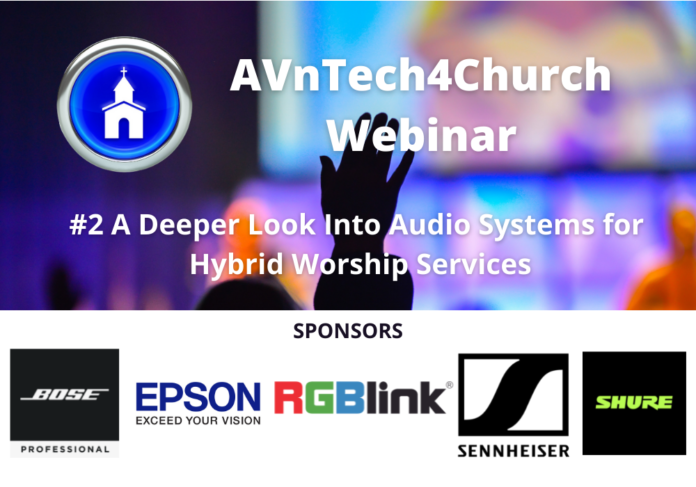 System Integration Asia's webinars for the church community held under the AVnTech4Church banner conducted its second webinar on 11th August 2021. This time the topic was on A Deeper Look Into Audio Systems for Hybrid Worship Services.
The webinar was once again conducted by Robert Soo, the founder and principal consultant of Cogent Acoustics and a familiar figure for many in the church community in Southeast Asia.
The second webinar took a closer look at the individual audio system components that go into the audio system. Robert touched on critical practices and conditions that affect the quality of a live stream such as process workflow, parameters setting, microphone techniques, room ambience capture and acoustics, and a lot more.
The second webinar attracted even more registration from the church community within the region compared to the first webinar. There were over 500 registrants with over 300 logged on, on the day itself.
"We are pleased that what we are trying to do for the church community in the region is garnering so much interest. It goes to show that there is a need for knowledge sharing. We are of course also appreciative that our sponsors are aligned with our vision," said David Lim, Director, Industry Engagement, Spinworkz Pte Ltd.
S. Robin from the Pentecostal Church of Singapore reinforces David's statement. "The webinar has been an eye-opener! Other than the educational content, it has also highlighted wrong practices implemented for so long. It was an informative and practical session."
Grace Anne Moses from SEGM Revival Church Central Damansara Perdana and a member of AES Malaysia Section added, "AVnTech4Church is a hard to come by good quality webinar series. Our church AV team was very blessed with this learning opportunity to upskill and expand their capabilities in audiovisual streaming technology. These webinars are preparing us to accommodate the growing requirements coming our way for audiovisual technology in a church setting."
The second webinar was sponsored by Bose, Epson, RGBlink, Sennheiser and Shure.
The third session of a 5-part webinar series on Hybrid Worship and titled "A Deeper Look into Video & Lighting Systems," is planned to be held in late September.