American digital signage solutions major BrightSign – coming to IFI showfloor for the second time through its India partner NVincy – launched its Series 5 range of media players, brought straight from InfoComm USA. The flagship system XC5 demonstrated on the booth is "the most powerful media player BrightSign has ever created," Pierre Gillet, BrightSign's VP for international sales, declares. "For, it's the only player on the market today to give 8K output," even as it can connect to multiple screens of 4K input.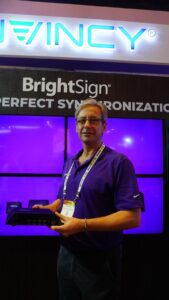 According to him, "It's a unique solution for any signage application of high quality," in that the feature-rich solution brings to place a revolutionary HTML5 performance with simultaneous streaming of 8K content across multiple screens. It also does the 3D WebG and CSS animations with ease.
The company demonstrated two models of XC5- the XC2055 with PC-class HTML5 performance, and XC4055 with double the performance of XC2055. Two models offer differing levels of HTML5 performance, both offering stunning 8K and a complete set of connectivity options.  From 4-screen video walls to blazing-fast 3D Web GL applications, XC5 does it all. Crafting video wall and multi-screen presentations are significantly streamlined with multi-output players and the BrightWall feature.
With multiple HDMI outputs, stellar HTML5 performance and stunning 8k video, XC5 is the most powerful player BrightSign has ever created.
According to Saugato Siddhanta, Director of NVincy, the world is fast negotiating the 8K content, particularly for Infotainment applications displaying or sharing 8K content output wouldn't be a far take, and BrightSign spreading its lead step across the continents, now to India. With Korean visual solutions majors Samsung and LG being already on the market with 8K displays, while Sony producing 8K content for PS5 devices, the days of 8K content for commercial AV applications may not be that far.
NVincy booth also had an added attraction with the Dutch digital signage solutions provider Nexmosphere who promises to transform any digital display into engaging experience. With a predominant influence and applications for retail segment, the Nexmosphere solutions can also be applied to other AV applications of visitor engagement environments.