Avocor, a global leader in collaboration technology solutions, returned to InfoComm India 2023 tradeshow, with a view to having a direct connect with Indian AV market, and explore its opportunities. The company showcased at its dedicated booth its range of solutions that were highlighted by the regional debut of the new L Series, a range of ultra-wide 21:9 aspect 5K displays.
"We're excited to return to InfoComm India, this time establishing our presence with an exclusive Avocor booth," said Dana Corey, GM & SVP of Global Sales at Avocor. "We recognise India as a key market for us and have been working closely with our distribution partner, Shree Info System Solutions (SISS), to activate growth plans in the region. Our investment at InfoComm India is testament to our commitment to the region, and we look forward to connecting with customers and sharing our exciting plans."
Avocor showcased the new L Series line of 105" ultra-wide 21:9 aspect displays – the first time this product range shown in India. Available in touch and non-touch options, the L Series is designed to meet demand for new user experiences and infinite canvas solutions from collaboration providers, such as Microsoft Teams Front Row. The L Series offers a stylish solution for meeting rooms, with a brushed aluminum finish, stunning 5K image resolution, and an impressive 33% additional usable screen real estate compared to a 16:9 display.
In addition to the L Series, Avocor also demonstrated its E and G Series displays, which offer a range of features and benefits to meet the needs of different businesses and applications. The E Series is a line of affordable, high-quality displays that are ideal for general-purpose use, while the G Series is a range of premium displays that offer advanced features such as 4K resolution and touch interactivity.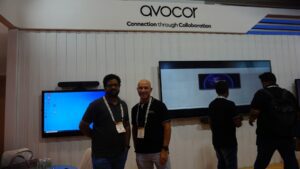 Says Kranti Kumar of Shree Info System Solutions: "Avocor displays are used by a wide range of organizations around the world and are now making healthy inroads into the Indian corporate market. As a trusted Avocor Partner we are committed to providing their innovative and high-quality solutions to businesses across the region."