NETGEAR unveiled its Enterprise-Class AV M4350 Series Switches at the InfoComm India held at the Jio World Convention Centre, Mumbai. These switches are engineered and certified for AVoIP with dedicated service and support. The M4350 is packed with more Enterprise-class hardware, redundant power supplies, and up to 100G uplinks.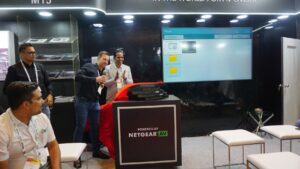 The system was unveiled by Graeme McLindin, Worldwide Vice President Service Provider Business, NETGEAR, in the presence of media and his colleagues.
The features stuffed into what is termed as revolutionary switch include an IGMP Plus with auto-LAG and Auto-Trunk; non-stop forwarding flexibility; selectable port-channel / LAG; advanced IPv4/IPv6 security- apart from a variety of PoE+ and Ultra90 PoE++ options for up to 90W AVoIP endpoints, controlled thermal and acoustics with intelligent fans, NSF, and a lot more.
"NETGEAR has consistently acknowledged the on-going transformation occurring within the Pro AV sector, particularly the innovations in AV-over-IP installations that are reshaping the possibilities in this field," McLindin said. "India is a critical market for us; it has been consistently delivering 5 per cent of our global revenue, and growing at a staggering 30 per cent Year-on-Year.
The development of the M4350 was the company's response to an increasing demand for such a feature-rich and reliable device system, explains Marthesh Nagendra, NETGEAR's sales director-India, MEA & Southeast Asia. "We listen to our customers and value their feedback, and act upon their requirement even as we look at the market dynamics," he said.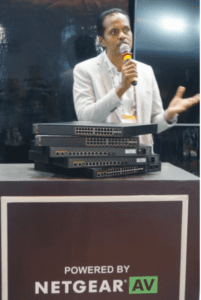 "It introduces an entirely new approach to switch configuration that is exclusively tailored to the needs of AV professionals," Nagendra elaborates. "Our approach to this launch was so clinical that this switch was tested and certified by over 220 AV vendors," Nagendra asserts. "The agnostic nature of the switch's AVGUI is so vast that the customer can easily span through MVS, AES 67 or Dante etc."
According to him, the recent expansion of NETGEAR's R&D facility in Bangalore is testimony to the company's commitments in the AV space. In tune with the same initiative,  the company is expanding its R&D centre to an expansive 100,000 Sqft facility, a major portion of which will be utilized for developing new products on AV line.
The AV-focused division at NETGEAR was recently established to focus on the needs of both commercial and residential custom-integrated AV markets. This includes products that are only available in the AV distribution channel, design teams for Pro AV and Pro Wi-Fi installations, and software to help configure and manage wired and wireless networks.
NETGEAR recognizes the explosion of video over Ethernet and has specifically designed products for AV over IP installations. The NETGEAR IGMP Plus, which allows out-of-the-box functionality for most all multicast installations, the modular switches accommodating copper, fiber, and HDMI inputs, NETGEAR will work with you to find the right solution at the right price. The ProAV world has adopted IP as its delivery method of choice and NETGEAR is here to help. NETGEAR switches provide a range of sizes and mounting methods to accommodate any installation – from the university campus to touring road shows.
"Our M4350 Series underscore NETGEAR's heightened dedication to the booming AV-over-IP market," says Jacob Inasu, marketing manager-India & Middle East. "The M4350 leads the show for switching expertise of high quality."
NETGEAR has over 200 switching products in its portfolio that provide businesses the ability to connect any type of AV over IP device, which offers flexible speed options ranging from 1Gbps to 100Gbps throughputs per port. These switches can also be leveraged to Power PoE, Cameras and other Security and Surveillance products. With such a large portfolio customers are able to customize and order the exact combination of their needs with more room to expand for the future.