HARMAN Professional Solutions, announced its new AMX SVSI N2600 Series Encoders and Decoders. The Series combines affordability and versatility making it ideal for colleges and universities, corporate, casinos, hospitality, government or just about any streaming application.
N2600 models feature a high-quality, low-latency 4K60 4:4:4 MWC codec that is perfect for transmitting both live video and detailed content. They also feature transport of full-bandwidth USB 2.0 signals between encoders and decoders, video preview images viewable from the built-in web interface or from a touch panel, and enhanced support for high-security networks.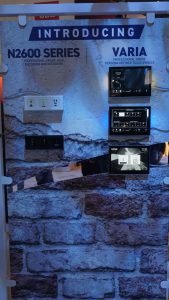 N2600 Encoders and Decoders are available in wallplate form-factors in both US and UK/EU styles. Wallplate Encoders include both an HDMI input and a USB-C input that supports both video and USB 2.0.
In addition to the high-quality, low-latency 4K60 4:4:4 MWC stream, stand-alone box and card models with the 'S' designation add support for a high-compatibility, low-bandwidth 1080p H.264 stream. These encoder models can simultaneously encode both MWC and H.264 streams and these decoders can decode streams of either type.
"This Series brings a lot of excitement into the streaming space and sets a new paradigm for what's possible in high fidelity encoding and decoding, especially at this price point," said Jamie Trader, vice-president of Video and Control, HARMAN Professional Solutions. "AMX Engineering continues to push the boundaries, making it simpler for our customers to do more with their investment in high quality video. The N2600 series really are products that we believe will stimulate new ideas and push new boundaries for hybrid-learning and enterprise streaming video distribution."