Digital Projection, again playing a central role at ISE 2023, demonstrated what is arguably the most important development in projection since the advent of laser light source: the Satellite MLS (Modular Laser System). The company showcased its flagship Satellite MLS, projection system with the world's brightest 1-Chip DLP projector (M-Vision 27000), as well as the mighty TITAN Laser range of projectors.
The DPI's ISE initiative, is joined by VIOSO, bringing its expertise in complex dome calibration and video-mapping projection to create an eye-catching application-based stand experience.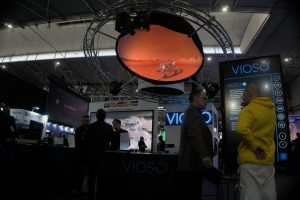 Challenging the outdated view from the rest of the projection industry, Digital Projection has turned the concept of performance-to-size ratio by developing a technology that allows both smaller and more powerful projectors. Offering significant benefits at every stage of a system design, Satellite MLS separates the light source from the small, lightweight projector 'head', giving integrators greater freedom, particularly where space an access are restricted, while reducing noise and heat from the audience location.
By separating the projection head from the light source and linking the two with robust and flexible fibre-optic cables up to 100m long, Digital Projection's latest innovation offers integrators and system designers more flexibility and options to deploy advanced visual solutions, whilst making high-end RGB laser illumination accessible at a cost-effective price point.
Visitors to the stand also got to experience the new M-Vision 27000, making its debut at ISE 2023. Set to be the world's brightest 1-Chip DLP laser projector, it will be shipping in early Q3 2022. True to its commitment to offer ever-closer 3-Chip DLP performance at a 1-Chip DLP price point, the new M-Vision 27000 packs the most advanced technologies to bring stunningly saturated colours at levels of brightness never attained before.
These technologies are brought to life with a little help from VIOSO's magic, which is partnering with Digital Projection at ISE this year to offer visitors a mapping spectacular.
VIOSO showcased its latest ground-breaking multi-playback warping and blending system which is integrated in more than 30 software- and hardware tools on the market. An interactive bar enhanced by multi-projection as well as a demo area and a unique projection mapping exhibit powered by VIOSO's calibration and playback technology will complete the stand.
www.digitalprojection.com