Alcons Audio is bringing its award-winning Pro-Ribbon Immersive Experience to Integrated Systems Europe (ISE) 2020 and, as usual, enabling visitors to experience the remarkable sound quality at high SPLs of the company's pro-ribbon sound systems.
New products also will be previewed to highlight the next generation of the company's evolutionary audio solutions.
Partners for this year's Pro-Ribbon Immersive Experience are Sony for projection, Storm Audio for processing, ShowTex for acoustics and DreamScreen for the screen technology.
Located at booth #6-K160, the Pro-Ribbon Immersive Experience will feature all-digital, lossless signal distribution from source to amplification, in a 11.x.8 surround configuration.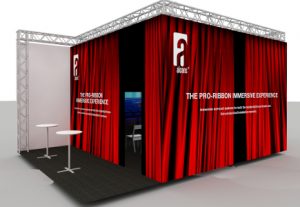 The system will feature LCR channels of three pro-ribbon CRMS mkII Cinema Reference Monitor System with six CRMSC-LFE18 screen subwoofers will be complemented by eight CRMSC-SRHV90 and eight wide-dispersion CRMSC-SRHV120 compact horizontal/vertical reference surround units, for base and height level surround respectively.
The system will be powered and controlled by 28 channels of Sentinel3 and Sentinel10 amplified loudspeaker controllers, with processing and room calibration by Storm Audio's latest preamp, the ISP.32 Digital AES MK2. The 32 AES3 outputs unit can decode all immersive formats up to 13.1.10 and supports, amongst others, DTS:X Pro, IMAX Enhanced, HDMI eARC and the new Dirac Live Bass Control module.
Thanks to its acoustically-optimised construction, due to the ShowTex acoustic baffles and the precise projection of the Alcons speakers,
the Pro-Ribbon Immersive Experience can deliver ultra-low distortion sound with high dynamics in the environment of the show floor.
Alcons will also be showing its new CRMS-SRHV/9090 compact horizontal/vertical reference immersive surround with patent-pending 90×90 waveguide and the QB242 modular low-frequency array column.
Following its successful global launch at the NAMM show, Alcons will host off-site demos of the LR24 mid-size pro-ribbon line array module. The company has been a long-term supporter of the show and returns again as an official ISE Technology Partner,
Alcons will again be one of the providers for the ISE Main Stage theatre, this year featuring an pro-ribbon LR7 micro line-array system with cardioid subwoofer array.
"The mixed installation and residential focus of the ISE show is a tremendous advantage for Alcons, enabling us to present a wider selection of our product range, covering both markets," said Alcons co-founder Tom Back.
"We are making sure that this year will be one to remember, with both on-and off-site demonstrations showing why Alcons pro-ribbon solutions have become a byword for high end audio excellence in a very wide range of applications."