At ISE 2020 a spinoff of the traditional AudioForum, focused on acoustic enhancement, will be held every day at the Connessioni booth. The Forum will be a rotating program on four topics conducted by Steve Barbar of Audio Engineering Society.
For the 2020 edition, AudioForum is not limited only to the traditional full-day pre-show event!
Throughout the duration of ISE 2020, the Connessioni booth will boost a spin-off called Audioforum Extended, with a rotating program entirely focused on the topic of acoustic enhancement.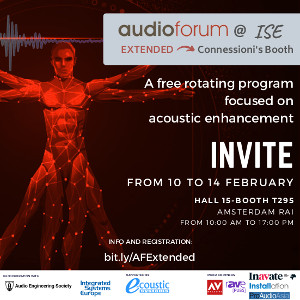 Thanks to the contribution of Steve Barbar, AES member and E-Coustic Systems founder, we'll discover how venues that suffer from unsatisfactory acoustics or rooms that need different sound characteristics for different purposes can be adjusted using specific hardware and software.
At the Connessioni booth (Hall 15-T295) there will also be a listening corner where you can personally try acoustic enhancement solutions.