As the most prestigious football tournament in the world is the main topic of every conversation, INFiLED LED displays empowered venues globally and ensured hundreds of thousands could experience the matches in impressive image quality. The World Cup Fan Zones became an attractive meeting point for football fans all over the world.
In this 2022 edition that has been held in Qatar – Doha and Dubai are two of the six cities around the world that host giant Fan Zones, spaces specifically designed for football lovers to follow live all the sporting action in an unbeatable environment.
INFiLED's large format screens offer high image quality and allow fans to enjoy the matches in an immersive atmosphere, living a complete audiovisual experience to dream of watching their favourite players battle for the big win.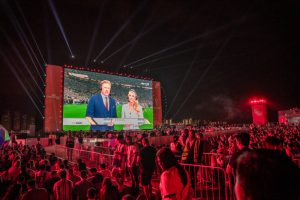 Dubai BUDX – Official FIFA Fan zone
The Dubai BudX FIFA fan zone is one of the few official FIFA fan zones globally. A place where visitors gathered daily to watch matches of their favourite teams, enjoy the view of the Dubai Skyline and dance to performances of world-class DJs. For the Official FIFA Fan zone of Dubai, rental Company Flair Events Services installed a stunning INFiLED LED Display of 23×12.5m, the largest display in the UAE region.
Flair Events Services, INFiLED 's latest rental partner in the UAE Region is known for choosing the highest quality products for its customers and found INFiLED to be a reliable industry partner. Due to great teamwork and the products' convenient set-up system, the entire installation of the massive display only took around fifteen hours.
The outdoor display with a pixel pitch of 3.9mm offers astonishing colours, 4K+ resolution and is reliable under any weather conditions, including the warm and dusty weather of the UAE. Over 16000 visitors daily came to the venue to enjoy a world cup experience like never before.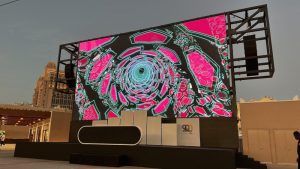 900park – World Cup Fan zone
900park in Doha, Qatar is a 40,000 m² outdoor leisure complex offering restaurants and entertainment activities for thousands of visitors and sports fans from all over the world. Darwish Holding chose to integrate two INFiLED MV Max LED Displays with a pixel pitch of 5.9mm for Qatar's latest entertainment hub, streaming all live matches on the high-resolution displays from kick-off until late at night.
The two MV max displays of 13.5×7.5m are the largest fixed installation screens in Qatar, streaming FIFA world cup matches. Darwish Holding states that the high quality, high brightness of 7500 nits and IP65 protection, as well as reliable performance under hot weather conditions of INFiLED's flagship outdoor product, were some of the factors that fit the high requirements for the demanding installation. After the world cup final, the displays will be installed for an outdoor cinema.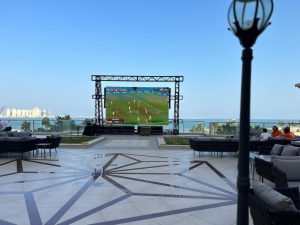 ST Regis – Hotel Fan Zone
The St. Regis hotel in Qatar is one of the country's top 5-star hotels in Doha. For their 2022 World Cup Fan Zone, St. Regis asked Mannai Trading to integrate two reliable, high-quality, and elegant displays for their guests to watch the matches. Mannai Trading chose two outdoor INFiLED LED Displays with a size of 5×3 and 3x2m and a pixel pitch of 3.9mm for the installation at the demanding top location.
St. Regis required the highest image quality for their many world cup visitors, including the entire Netherlands National Soccer team, who chose to stay at the luxury hotel until their exit after the quarterfinals against Argentina. Head coach of the national team, Louis van Gaal praised the accommodation during his first press conference upon arrival in Qatar.
Dubai Festival City – Crowne Plaza Fan Zone
Dubai Festival City is a modern entertainment hub in Dubai, UAE, home to a massive shopping mall, a large cinema complex and food courts. One of the top hotels in the Festival City is Crowne Plaza, a luxury place offering fine gastronomy, waterfront views, relaxation, and a full-on experience of all activities during the 2022 World Cup at its outside terrace. For the important fan zone, Joseph Digital Solutions installed a high-resolution 9×5.5m INFiLED LED display with a pixel pitch of 3.9mm. Joseph Digital Solutions chose the giant INFiLED Display of almost 50sqm because of its high image quality and reliability.