India is a land of wonderments, they said, and keep on saying! The statement often comes into veritable manifestation audio-visually; the more we explore, the more it manifests. This time, it's Chennai-based AVL solutions provider Lux & Decibels creating what it says India's first mid-air projection, with a 3D capping to culminate in a crescendo of excitement.
In this second outing, RAM BHAVANASHI presents a snapshot of the unique Son et Lumiere show at Semmozhi Poonga in Chennai. Check it out when you are there!
…………………………………………………………
Anyone visiting Chennai these days, must take out an evening, and spend time at the Son et Lumiere show at Semmozhi Poonga – called the Classical Tamil Park in English – to witness what is claimed as India's first and permanent mid-air projection, with a 3D-capping.
For a nutshell account of the technicalities, it is characterized by a 20 feet X 10 feet holographic screen with a see-through fabric, standing at a height of 20 feet from the ground. That it is a transparent material, with a background of dense vegetation it is as good as nothing even in dim light conditions, and particularly during dark nights.
So, it apparently looks like a mid-air hoist when an image or content is projected onto it.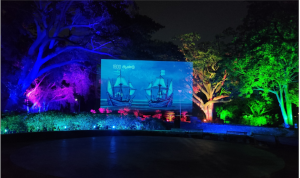 More, projecting a narrative supported content onto that screen are a pair of projectors, and a huge bulk of professional lights and audio- working from inside a modular Control Room created in an amphitheatre that is as many as 28 meters (92 feet approx.) away from the screen, and eight feet above the ground.
A 40-minute sound and light show – with a Tamil voiceover (English to be added soon) – then takes the onlookers through a brief but grand history of the metropolis, and its journey through times, the curse of modern living it's been living of late – centred around unscrupulous occupation of natural water ways and flood devastations – and culminates with the emphasis on the importance of preserving natural resources, water ways, and eco-system.
That's the 'story' of the install scripted by Chennai-based professional AVL solutions provider Lux & Decibels, working on the entrustment by the Tamil Nadu Horticulture Department that is headed by a go-getter visionary IAS Dr. Subbaiyan N.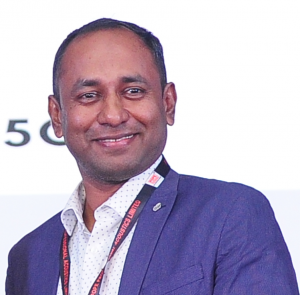 "It's arguably the first mid-air projection in India, says Shiva Pillai, Principal Consultant at Lux & Decibels. "Watching the projection during nights with the kind of dense vegetation in the background, it makes a mid-air hoist."
With the kind of narrative as specified by the client, and the more-than-routine time constraint, it was indeed challenging in its own right, remarks Shiva's designer associate Ranjit Kumar. "Our knowledge about the city and right connects with the experts did the billing for us."
Ranjit also contributed as the Project's Manger, along with his colleague Pugazh.
The Plot…
Dr. Subbaiyan N, IAS – when he took over the reins of Tamil Nadu Horticultural Development Agency as its Managing Director – set in motion transformation of the otherwise ordinary vegetative land tracts in the State Capital, besides other cities. He did create some good green landscapes in the Metropolis.
One particular thought process came in when his sights were set on the Semmozhi Poonga – on the Cathedral Road – the place where the erstwhile, famously aristocratic Woodlands Drive-In restaurant once stood (by a 'leased' act of Government) amidst a vast and plush green lands.
During its heyday in the early 1960s, the art deco stylized restaurant was a sort of soiree site for the Tamil elite of the time, and a prerogative of VIPs. However, it soon lost in time, giving in to development of a specialist botanical garden by the State Government.
Fast forward to 2010, the State Government developed the 20-acre (8 hectare approx.) site into a plush and designer garden, and christened it Classical Tamil Park to commemorate the grandly held Classical Tamil Conference earlier that year.
Having such a noble-fabled green land in sight, Subbaiyan ideated to add some creative value to the park so that it springs more life, in harmony with the nature it had been existing in.
Ironically though, by the time it came under his aegis, Chennai had also gotten the infamous inundation. Two of the city's four major water ways – Coovum River and Buckingham Canal – pass from nearby the Park. It was therefore ideated to create an immersive sound and light show that emphasizes the importance of protecting natural water ways, natural resources, and preserving trees and eco-system.
The Department of Horticulture moved swiftly and called for solution providers who could create a compelling narrative and communicate the message of harmony with nature with an effective depiction of the plot.
That's how Lux & Decibels landed the project, with their slew of successfully executed Government projects doing the talking for their competence.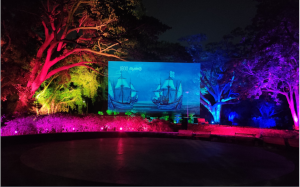 For an effective and reinforcing communication, the solution provider decided to tell the narrative in four separate drama lines. Beginning with a young couple walking into the park overawed by its appeal and beginning a chat over how the city has traversed; then how the British went to Chandragiri king requesting allotment of land for their business, how it led over time to setting the city; then followed by the modern living of unscrupulous disruption of natural setting around the city, causing devastating floods; and finally the message of preserving eco-system and living in harmony with nature.
"The final message of protecting trees and green environment is communicated by a giant tree in a 3D format," explains Shiva. "For us, like the most, it is spell-binding."
Designed by Shiva himself and his business Principal Bart Hemelaer – Chairman and co-owner of Rinbo Lifestyle – the technology deployment comprised:
Two units of Panasonic projectors
Two units of Visual Productions Cue Core
One unit of Visual Productions B Station
55 units of Rinbo lights
Pope Professional Outdoor Installation Speakers
Pope Professional Audio System (5.1 Outdoor Surround Sound)
"Knowing the rough corrosive weather that Chennai encounters from the sea side, we installed systems that are robust and can withstand the weather impact," Shiva explains. "That the install is meant to be permanent, we needed to be doubly particular about their all-weather sustenance."
Making the 40-minute Son et Lumiere truly experiential with artistic expertise was Creative Director Muniapparaj who was ably supported by Music Director Devendran who scored involving music lilting with the lighting.
The edutainment project has only Tamil voiceover as of now, but they would soon have English voiceover as well, informs the consultant.
So, a show to show the way to live in harmony with nature.