With an apparent objective of taking surveillance beyond security into a future of unlimited possibilities of smart safety, Bosch Security Systems has come out with what is claimed to be revolutionary system solution. The security giant intends to usher in its unique system concept by enabling solution developers and systems integrators, and partners towards developing customer-specific apps or easily customize security solutions with no restrictions or boundaries.
Enter the product in point: INTEOX.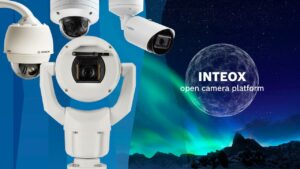 Designed according to fully open principles, the Inteox combines built-in Intelligent video analytics from Bosch, a commonly-used open Operating System (OS) provided by Security and Safety Things, and the ability to securely add software apps at a later date. This is backed by the Bosch quality for outstanding performance, lasting build quality, superior data security and privacy, and ease of installation and use.
Thanks to the fully open principle, system integrators are free to add apps available in the application store, making it quick and simple to customize security solutions. Application developers can simply develop apps based on a common language. This makes INTEOX the only platform that is accessible to anyone who wants to imagine, create and deploy customer-specific solutions.
With the INTEOX platform, everything a camera sees can be understood and transformed into valuable insights. Anything from object classification, speed or specific characteristics, to exact GPS coordinates. This can be used to inspire or develop software solutions that define what your security device will be and how it works for you. By adding apps, your video security camera can be used as an access controller based on video data. Or it can become a fire detector that can detect fires early based on video data.
By using intelligence that is already built in, and cleverly combining it with one or multiple apps, it can be optimized to act as a sensor to provide smart data for multiple applications. The possibilities with INTEOX are endless. It provides a sound return on investment as the functionality of the device can be easily changed by adding or removing apps to meet changing customer requirements. Cameras build on INTEOX are no longer just smart cameras; they are becoming smart devices. INTEOX takes security and safety to a whole new level and beyond.
With built-in Intelligent Video Analytics, INTEOX offers an incredible range of opportunities for exciting new solutions. It makes it easy for app developers to take advantage of INTEOX's ability to provide information such as when people or objects travel in the wrong direction, or park in restricted areas. It can provide metrics about color, type of object, speeds, and GPS coordinates.
INTEOX can also tell if objects are left behind in a pre-defined area, or if a perimeter is being breached. This is just a subset of possibilities INTEOX's built-in Intelligent Video Analytics has to offer. App developers can now focus on leveraging this intelligence and its valuable data for their own software developments to introduce new exciting possibilities. And as you'd expect from Bosch, all cameras built on INTEOX are secure by design for the ultimate peace of mind.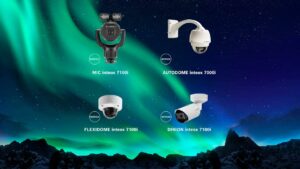 INTEOX cameras connect seamlessly to the Security and Safety Things open IoT ecosystem. This includes an application store, web portal for app developers and designers, and a device management portal. It gives app developers access to online tools, developers' libraries, an API framework, and codecs to enable them to create new things. System integrators can easily tailor solutions to meet specific customer requirements by installing and executing multiple apps on the INTEOX platform.
With a portfolio of cameras built on INTEOX, it's easy and safe to deploy apps, software and services to devices, wherever their location. The Bosch Remote Portal offers device management with daily or advanced configuration and set up from everywhere. Plus there are value-added services such as In-Store Analytics or counting reports that can be added to one or multiple cameras. Via the Remote Portal, INTEOX cameras can also connect to the Security and Safety Things IoT platform with access to relevant app information, all the tools needed to develop and test apps, as well as a device management cockpit with app and device health statistics.