According to data released by relevant agencies, the market size of the new commercial display in 2021 will be about 45 billion US dollars. It is predicted that by 2030, the market size will reach 84.7 billion US dollars. With a compound annual growth rate of more than 7%, it's evident that the development prospects of new commercial displays are very impressive.
In applying new commercial displays, direct view LED plays an important role in retail windows, interior decoration, building facades and other areas, bringing great changes to shoppers.
Compared with the traditional retail model, modern retail can more effectively make the audience more interested in your brand, store, products, etc. It is more inclined to be "ecological", "unbounded", "intelligent", and "experiential", and is no longer a single consumption relationship between buying and selling, thus upgrading the user experience. Direct view LED displays stand out because of many advantages, such as high-definition display, flexible size, and high reliability, to become the main force in the retail industry.
YES TECH Mwall Series
Your wise choice for commercial display and modern retailing:
1. Applicable as a showcase screen
With 4000-4500 nits, its use as a high-brightness window display, also clear under strong light, can be installed semi-outdoor. It supports customized configuration to complete a window display for better brand recognition;
2. Create indoor naked-eye 3D
Supporting 90°seamless corner splicing, it can be in a column shape and can be used in customized scene applications and transform a retail scene into a real experience centre.
3. Flexible size
Three types of cabinet shapes can be flexibly used for different applications.
4. Easy to install
Light and thin, with a thickness of only 65mm and a weight of 5.6kg, It supports floor-standing, wall-mounting, embedded flexible installation, and wall-mounted installation does not require a special wall structure. Mwall supports full front maintenance.
5. Stable performance
Modules, HUB boards and receiving cards are all hard-coupling connections with built-in test functions, and the whole box can be self-tested before installation.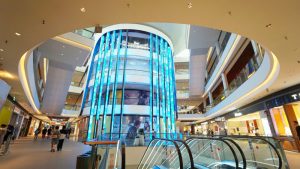 The high-end scene shopping experience of offline stores has promoted the irreversible development momentum of retail. The creation of this scene needs to meet high-end visual, auditory and somatosensory needs that can be achieved with Direct view LED displays.