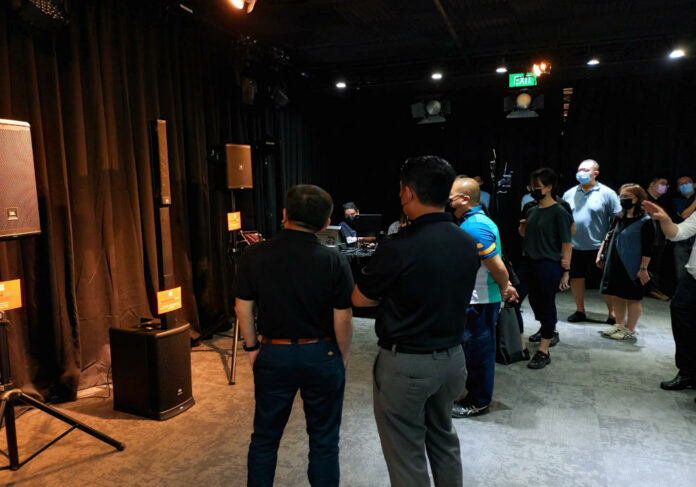 With Singapore's "opening-up" for gatherings and events, brands and distributors have started to take advantage by organising face-to-face events for their customer base. For over two years, many could not gather to see, touch and hear solutions and it was a solid impetus to turn up for organised events. It was no different when HARMAN Pro Solutions and their distributor, Electronics & Engineering Pte Ltd (E&E), organised a one-day event to demonstrate the portable range of speakers from JBL.
Held on 26th July at the newly minted, fully sound-proofed, NEW-MEDIA LAB at the Kallang Wave mall, the demo was split into two sessions to accommodate the high number of SIs, consultants, rental & staging companies, and end-users from different vertical segments who attended the sessions.
The demo showcased slightly older versions and those that were introduced last year. "This event allows us to let the industry hear the loudspeakers. They would have heard and read about the loudspeakers, but this is the first time they have had the opportunity to listen to them. Nothing beats a live demonstration," shared Gerald Chew, Head of Distribution Sales, E&E.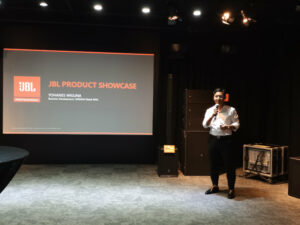 Yohanes Wiguna, business development manager, Retail APAC, HARMAN, brought the audience through the different JBL portable series, starting with the EON ONE COMPACT and following through with the EON ONE MK2, the EON 700 Series, demonstrating the audio quality of the 10", 12", 15" and the 18" sub. The EON 700 Series was introduced late last year and is targeted at mid-sized venues with a throw coverage of up to 20 metres. Also demonstrated were the IRX Series, the larger BRX 300 and the PRX ONE series.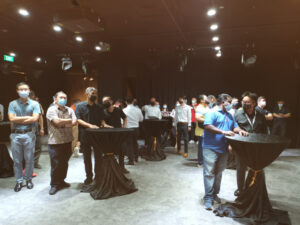 "We are pleased with the turnout and the opportunity to showcase the JBL portable series. The response from the attendees has been enthusiastic!" added Gary Goh, CEO, E&E.