The 'Office of the Future: Reshaping Hybrid Workplace Strategies' in-person event held on 7 December 2022 reiterates one key point – a holistic approach is needed for the success of a hybrid workplace.
The event, organised by Barco and supported by Jabra, was held at the NUSS Suntec City Guild House, with about 40 people attending. The audience was a mix of system integrators, IT professionals and end-users based in Singapore.
Hybrid Workplaces have been a hot topic since the opening up of economies from the COVID-19 pandemic, and many aspects need to be considered to create a thriving hybrid workplace environment.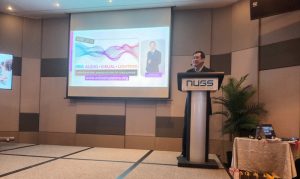 In his opening address, Jackson Yeoh, Executive Director, Pro Audiovisual & Lighting
Integration Association, Singapore, pointed out that not all jobs are suitable for hybrid work and that there are still many employers who are traditional regarding workers being in the office. He added that they will need a more open mindset to retain and attract talents.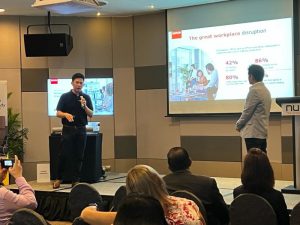 A presentation on 'Hybrid working trends & the future of hybrid meetings' by Erik Tanuwidjaja, Business Lead for Meeting & Learning Experience, Barco SEA & Taiwan and Wayne Lee, Director, Products & Strategic Alliances, Jabra APAC, highlighted some key statistics. One highlights that 80% of those surveyed by Barco preferred hybrid work over full-time at the office. A more relevant result from the survey is that 71% of workers experienced stress in hybrid meetings, and 1 in 3 considered changing jobs because of issues with hybrid work. In this aspect, technology certainly can play a key role in alleviating the stress. Wayne said that 'Meeting Equity' needs to be achieved for better experience and participation.
What is Meeting Equity? – this is where participants can be seen and heard equitably and be able to hear and be heard equitably and achieving both of these criteria regardless of where they are joining the meeting from. In a Jabra survey, 61% of respondents said they felt more included and present in meetings when everyone had their camera turned on. In addition, using professional audio devices does help create better conversations, inclusivity, and collaboration.
In conclusion, Erik and Wayne highlighted four domains organizations need to consider when looking at meeting equity:
1. People – Give employees the flexibility to become hybrid natives.
2. Office and room design – Look for the AV setup matching the room size and meeting goals.
3. Collaboration – Implement simple meeting practices to bring everyone into the meeting.
4. Technology – Equip teams with high-quality tools, platforms and solutions for a seamless connection.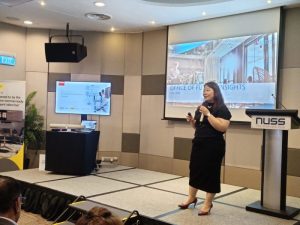 In the following presentation, Carol Wong, Total Workplace Lead, Asia Pacific, Cushman & Wakefield, highlighted why there was a need to transform the workplace. In essence, the transformation will help attract and retain talent, achieve desired culture, support learning and innovation and achieve ESG goals and objectives. Carol contends that the workplace will become an Ecosystem of Different Locations and Experiences that should support the employee's convenience, functionality and well-being.
The afternoon also saw a panel discussion moderated by Thomas Prakasam, Publisher / Editorial Director, Systems Integration Asia, with the panel formed by Tony Sandberg, Vice President of Sales, Meeting and Learning Experience, Barco APAC; Margaret Hariman, APAC Leader, Business Enterprise Solutions, Schneider Electric and Carol Wong of Cushman & Wakefield.
Key takeaways from the panel discussion include:
* Understanding clearly the needs for collaboration and unified communications AV technology and finding a solution that is simple to use, easy to deploy in various meeting spaces, has strong security, and reliability, as reiterated by Tony Sandberg. Tony highlighted that Barco's ClickShare meets all the requirements.
* Margaret Hariman emphasized that office or building owners may want to start thinking about how to connect technology and people-centricity; and how we make spaces that adapt to the people, and not people adapt to the space.
* Carol Wong highlighted that employers must identify moments that matter to employees to create engagement and touchpoints. Therefore we see the need to redefine the purpose of office – create meaning & utility to support in-person work. Thus, the solution from Workplace design / Locations / Change engagement programs should support the most urgent requirement of TOGETHERNESS."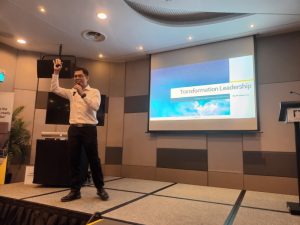 The event ended with a presentation from Dr Glenn Lee, VP, People and Transformation Solutions, Ascentis, who spoke on how organizations can develop a transformation roadmap for today's hybrid workplace. He reiterated the need to align essential roles in an organization with the organization's strategies for business growth and scaling, administering effective corporate values and branding through employee engagement strategies, operations design and effective change management system.
In conclusion, for organizations to truly succeed, there needs to be honest discussions among the various stakeholders, clear mission statements, clarity on company culture, flexibility and trust when creating a hybrid workspace. Technologies play an essential role in enabling the hybrid workspace, and quality solutions help reduce stress and create a more conducive work environment. A holistic view that allows the proper design of a hybrid workplace will help companies achieve their objectives and create a more productive workforce.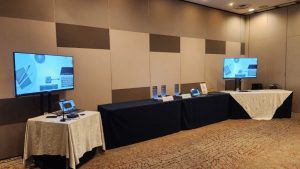 The event also saw a mini technology showcase featuring Barco's ClickShare working with Jabra's Panacast solutions.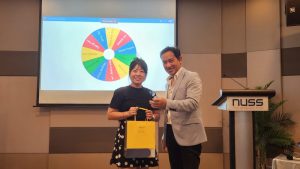 A lucky draw that saw six lucky participants winning prizes added a bonus icing to the event.