Institute of Technical Education (ITE) students from selected courses will now be able to use the latest technologies and software to create, develop and broadcast virtual productions, thanks to the new User Experience Hub (UX Hub) at ITE College Central, Singapore. The $2.6 million facility was set up together with seven partners – Alibaba Cloud (Singapore) Private Limited and its partner SCash Global; Blackmagic Design Asia Pte Ltd; Cgangs International Pte Ltd; Electronics & Engineering Pte Ltd (E&E); HP Singapore; and Quantum Corporation. The seven partners signed a Memorandum of Understanding (MOU) on 17 February in conjunction with the UX Hub launch.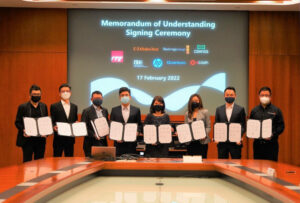 With this multi-disciplinary partnership, ITE has established a unique, high-tech ecosystem comprising software providers, hardware providers, production and content productions, and e-commerce service providers. The UX Hub is where ITE can tap on its partners' expertise and focus on workflow innovation, and where interested companies and businesses can come to discover new ways to make technology work for them. ITE students can also build their skill capabilities and work on real-world projects and solutioning with the support of ITE staff and industry mentors provided by the seven MOU partners.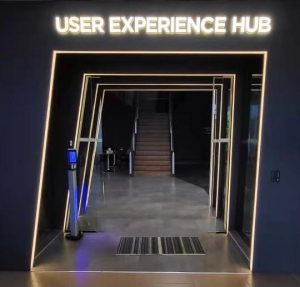 The ITE User Experience Hub which functions as a training facility as well as a centre to provide the visitors an understanding of how School of Design & Media (SDM) is aligning with IMDA Industry Transformation Map (ITM) for the Infocomm Media (ICM) industry leveraging on emerging technologies in Advanced Interfaces such as Mixed Reality (MR), Augmented Reality (AR) and Virtual Reality (VR).
E&E partnered with ITE to provide consultancy, design and sponsored the hardware and software systems for Zone 1: EXPERIENCE GALLERY, which creates a holistic environment featuring a state of the art 3D Integrated HYPERVSN Holographic System, a configurable 6m x 3m LED Video Wall and a Curved Projection System using 3 laser projectors to soft edge blend a projection canvas of 10m by 3m, through a media server solution, all coming together to provide an immersive experience for viewers.
The system design allows this space to be divided into 2 separate zones for events, functional test pods for mock-ups and training facility or combined as a consolidated single zone for a larger audience. With the flexibility of a customised pipe grid system in the ceiling of the space, it will also allow other products and equipment to be integrated within the space for future interactive and sensory experiences.
As part of the collaboration, staff and students mainly from ITE's School of Design and Media will have the opportunity to work with E&E at the UX Hub. The team from E&E will also conduct training in the use of their products and services to help staff and students keep abreast with the latest industry offerings.