In diversified educational occasions, a school multipurpose hall generally serves multiple program and functional purposes. For example, school gymnasiums would occasionally function as an emergency shelter during inclement weather or terrible disaster, for this purpose, a school should accordingly settle the space with related facilities. Of course, the theme here is not to discuss the emergency application of a multipurpose hall, instead, as we all know, today's students and teaching models demand more creativity in design about performance spaces of a school, and here comes the topic, how we can make full use of limited room space in a school?
Q-NEX team encountered an interesting case last year. The project was about a school in UK. The school head proposed a request of renovating one of their large classrooms into two adjoining smaller classrooms, however, with a demountable wall, which means, when the wall was removed or placed aside, it should still be a complete big room for use.
It is a common request about dividing a large room into two and remerging the rooms when it is needed. But the particular part of this project is, when the big classroom is separated into two smaller ones, there are a complete set of AV devices and an AV controller equipped in each room, and both rooms should be independent in use. Once the wall is demounted, one of the controllers should take over the control of all AV media devices in the room, and all displays and speakers should play the same media content at the same time, which makes the remerged room completely under one control. And when the wall is mounted in between again, the separated two rooms should return to their independent state. Therefore, even though the big classroom is divided, there is still a connection in between.

Anyway, with a great effort of Q-NEX team for this project, a feasible solution was handed to the school, along with Q-NEX NMP as the media and control processor installed in each of the divided rooms, to achieve independent AV control, such as projector on/ off, electric projection screen up/ down, audio and video switcher, audio volume control, door lock etc. The divided two rooms will work with NO interruption in daily use. And when sometimes there is a need to have a more interactive class in between the 2 adjoining classrooms, the wall can be removed. When it is done, it will trigger a sensor to send instructions to one of the NMPs, which will take over the whole room control during the re-emerging state. No rewiring work is required at all, Q-NEX system will sense where the demountable wall is put, and switch to the proper control mode automatically.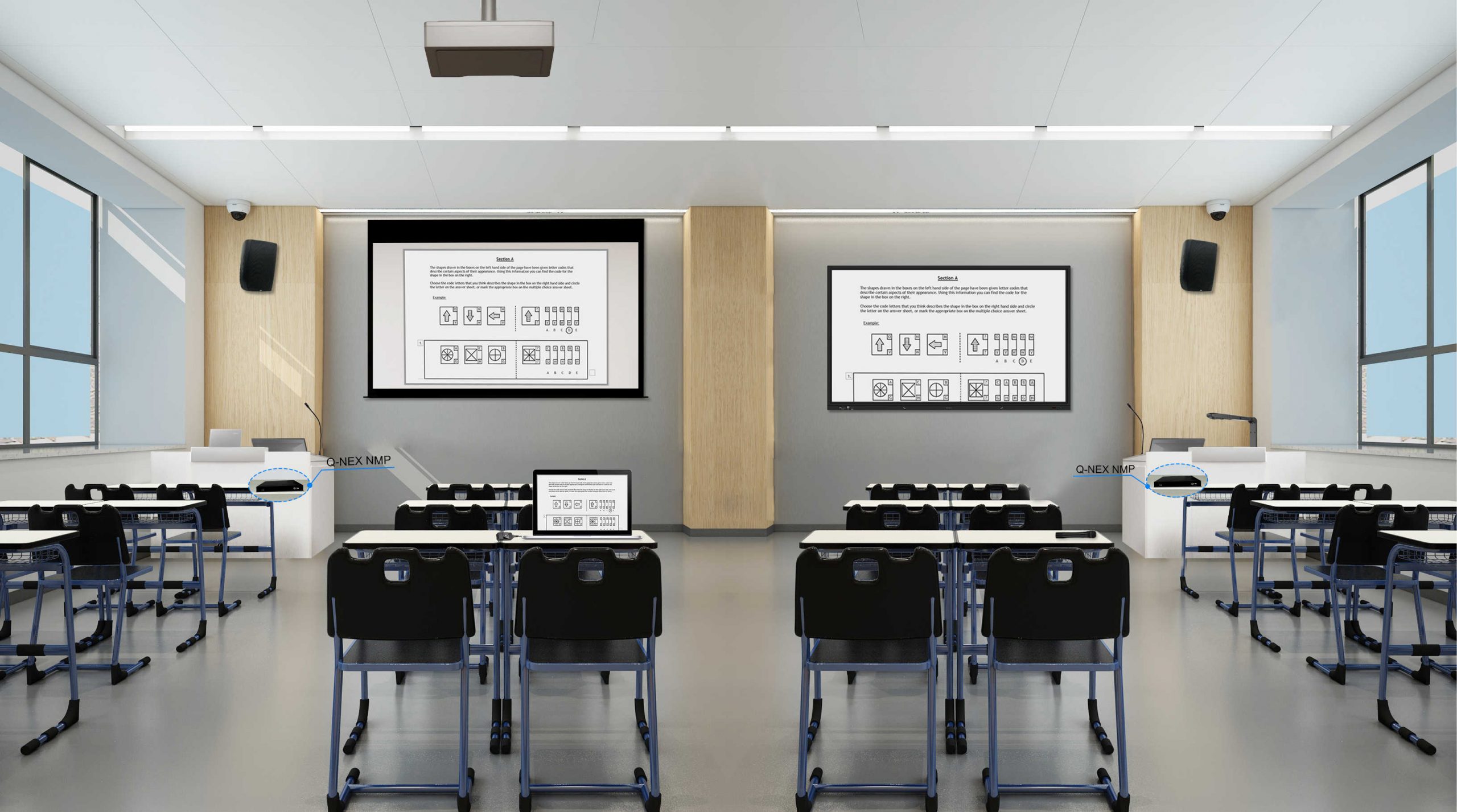 That's what Q-NEX can do for an application of a multipurpose room. If you have different applications requests you are welcome to connect with us. Q-NEX team is always ready to serve.