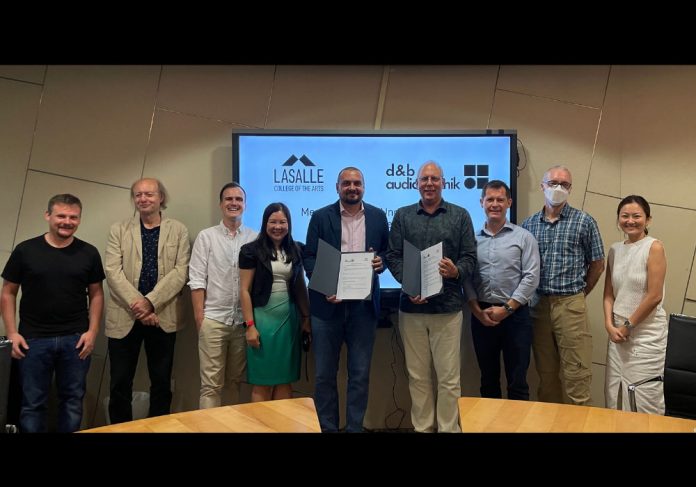 d&b audiotechnik APAC has announced a new collaboration with Singapore's LASALLE College of the Arts to augment tuition, research and industry engagement. The deal comes as part of d&b audiotechnik Singapore's commitment to supporting the next generation of pro-audio experts.
LASALLE and d&b have enjoyed many years of working together, drawing on mutual placements in the industry to create consistent opportunities. In 2017, LASALLE students were invited to train with d&b at their location in Tai Seng. Since then, a close relationship has developed of collaboration and sharing.
The new Memorandum of Understanding focuses on LASALLE's Diploma in Audio Production programme. Many new pro-audio avenues are now open to LASALLE students, including internships alongside the d&b Singapore team, opportunities for students to tour d&b project installations – including the recent Singtel Waterfront Theatre project – and visits to regional d&b R&D, manufacturing and Education and Application Support facilities.
"d&b has developed a strong set of courses that would be a great augmentation to teaching at LASALLE," says Dr Timothy O'Dwyer, Head, School of Contemporary Music at LASALLE. "These courses bring industry context and specificity of approach that is often brand neutral but also comprehensive and systematic. Students may also have the opportunity to be trained in a number of d&b's certificate programmes."
"We hope to see the continuation of sub-array and line array workshops," O'Dwyer continues. "The integration of these workshops into the curriculum is important to give students a greater perspective and an in-depth experience of the industry. Furthermore, we are excited to introduce students to d&b Soundscape and other more advanced electro-acoustic approaches in collaboration with d&b."
Both d&b and LASALLE report that research collaboration could advance many other projects and in addition, LASALLE lecturers will be equipped to run d&b software workshops, which may include d&b NoizCalc, a Line Array Workshop and a d&b Soundscape Workshop.
The d&b team has also introduced possibilities of different approaches to Soundscape control topologies, most particularly looking at both off-the-shelf and custom OSC Control Devices.
"This partnership will help prepare students for the industry as well as help introduce the industry to the students," says O'Dwyer. "Shared experiences can be a great opportunity for students to see what the possibilities of the industry are. We hope this partnership will create a better perspective and understanding for the industry and the educational institutions through the intersection of our shared interests of audio and quality."
Gareth Kelbrick, Director of Education & Application Support at d&b APAC, comments: "d&b remains dedicated to reaching out to educational institutions that are supporting the next generation of pro-audio experts, and the new Memorandum of Understanding with LASALLE highlights this. We are excited to share world-class experience, knowledge and equipment and apply this to research and education to help advance pro-audio in Singapore and look to the future of what can be achieved."