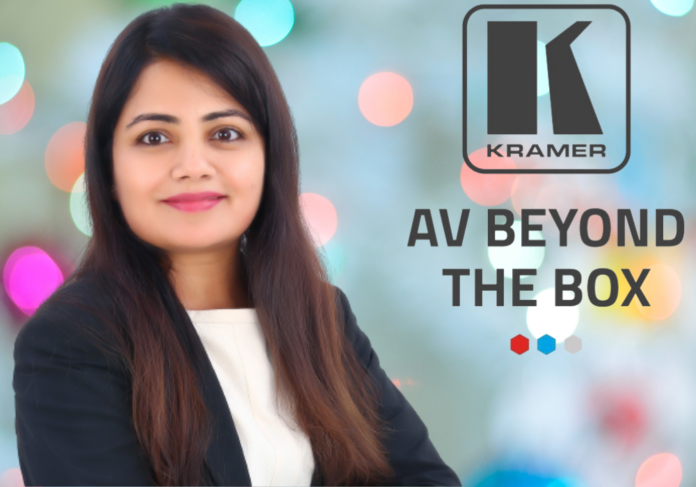 In an interesting development Kramer APAC had a change of guard with two key announcements that has particular significance to Indian AV. Bharath Kumar Allur, and Kirti Shetti – the two frontal faces of Kramer India – have been elevated to higher positions, apparently meaning greater role to play for the Israeli AV major, and Indian AV.
One, the appointment of Kirti Shetti – who was Director of Operations, Kramer India – to  the position of Kramer India Country Manager; and the other, elevation of Bharath Kumar, who had been helming Kramer India affairs as its Managing Director, to the new role of Director of Global Strategic Accounts.
Kirti, who joined Kramer India over 14 years ago, was instrumental in the growth of the company's business across the subcontinent. She will be replacing Bharath Kumar as India Country Manager. In leading this major market for Kramer, Kirti's vast experience and knowledge is taken to help further consolidate the company's position as the leading provider of Pro AV solutions in India and other key markets in South Asia.
"We are shifting our center of gravity towards the customer, aiming to be more agile and make faster decisions on the field, with customer experience and benefits as our guiding light," said Marc Rémond, President-Asia Pacific at Kramer while making this announcement. "A central part of this initiative is placing highly experienced and capable people in key leadership roles in all markets and empowering them to drive value for customers," he said. "Kirti has contributed significantly to Kramer's success in India and as such, I am confident she will be effective in accelerating our growth regionally, as well as across all South Asian markets."
Bharath, after serving as Kramer as India Country Manager for the past 15 years, will be assuming the new role of Director of Global Strategic Accounts,. Having played a pivotal role in establishing Kramer's presence in India, he will now work closely with strategic accounts globally, identifying growth opportunities, while spearheading the transformation towards a hybrid world.