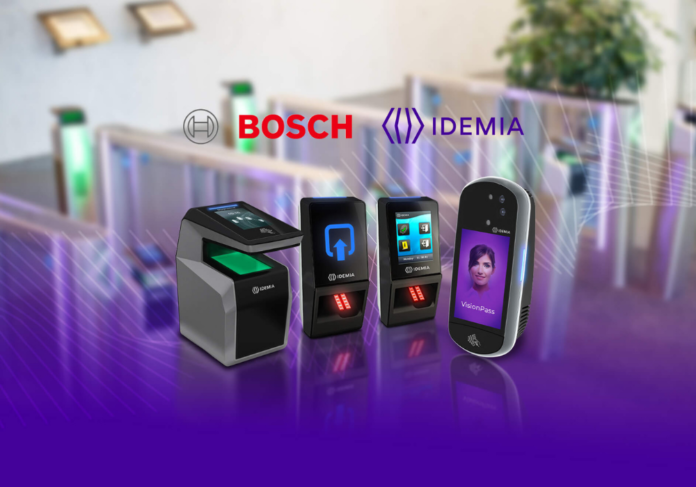 Bosch Building Technologies, a global leader in the security market, announced its global partnership with Idemia, a leader in Augmented Identity, adding a reliable biometric layer to access control.
……………………………………………….
Due to a growing security awareness in companies, they no longer want to rely on ID badges only for their access control systems. After all, ID badges could be stolen. Biometrics, based on personal, physiological, unforgeable characteristics, provide the highest degree of certainty that the person passing the door is a genuine authorized employee.
Bosch Building Technologies offers a robust and reliable software solution that manages different Bosch security subsystems like access control, video surveillance, fire alarm, public address and intrusion systems on one single platform, the Bosch Building Integration System (BIS). In order to add a biometric layer, Bosch has integrated Idemia's range of biometric devices into the Bosch Building Integration System (BIS).
In addition to the integration with BIS, Bosch included Idemia's flagship contactless biometric terminals to their access control offering:
MorphoWave  is a terminal capable of scanning and verifying 4 fingerprints in less than 1 second through a quick and touchless wave movement of the hand.
VisionPass is an advanced facial recognition terminal combining 2D, 3D and infrared cameras with facial algorithms.
Sigma Lite Series is a range of entry-level, touchless fingerprint terminals.
These terminals combine high biometric accuracy, speed and convenience with a fully touchless user experience. They operate efficiently with sanitary masks, and are therefore well adapted for Covid-prevention policies.
The terminals are integrated with most gates and turnstile vendors. This will greatly facilitate deployments in Bosch specific markets with a focus on commercial buildings, industrial and logistics sites, government premises and airports/seaports.
Bosch stands for quality and reliability. We want to offer innovative and fascinating solutions, as our slogan 'invented for life' states. When our customers are going to deploy biometric terminals for their security, they will be installed for years so we want to offer them the best option", explains Gregor Schlechtriem, Senior Vice President Bosch Building Technologies Business Unit Access & Intrusion. "Idemia is therefore for us the right partner because of their technology expertise and field-proven quality and performances", Schlechtriem continues.
"We are delighted to start this global partnership with Bosch", comments Yves Portalier, EVP Biometric Devices and Automotive at Idemia. "The combination of our biometric devices with the BIS platform will be a strong offering for companies looking for a high level of security and user convenience."
www.boschbuildingtechnologies.com