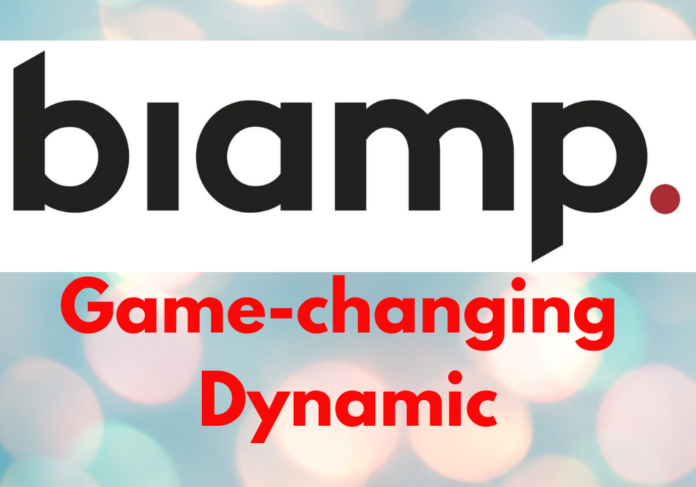 While the audiovisual marketplaces are spiced up with more and more compelling solutions by the day – in their increasing migration to the new normal world – they are gotten a game-changing dynamic now. Cometh Biamp, the global leader in professional audiovisual solutions made a history of sorts with the launch of what is seen as game-changing portfolio.
The Beaverton, Oregon-headquartered AV major, making massive stride in single go, launched a whole big suite of AV solutions comprising four different product lines but mark its entry into the increasingly intensifying video-conferencing market, and control automation domain.
Indian AV, a big market for all that has a big market play out there. A snappy account of it all:
………………………………..
Parlé Audio and Video Conferencing Bars:  The Parlé audio and video conferencing bars, a line of professional-grade audiovisual conferencing solutions are meant for small to medium-sized rooms. Leveraging Biamp's 40 years of audiovisual expertise, Parlé conferencing bars combine Beamtracking microphones, smart loudspeakers, advanced signal processing, an optional 4K camera with auto-framing, and Biamp Launch, the company's automated deployment and tuning technology, into one plug-and-play speaker bar that delivers a premium conferencing experience.
The family of Parlé conferencing bars includes the ABC 2500 Audio Bar, which features Biamp Audio Intelligence to create a premium audio experience: a 27-element microphone array creates three Beamtracking zones that can actively track and intelligently mix conversations from around the room; award-winning echo cancellation and noise reduction algorithms provide extraordinary clarity and quality; and smart speaker technology actively adjusts speaker performance to deliver large room audio from a small room device. Using Biamp Launch, each of these features is automatically tuned to meet the acoustic needs of each meeting room to create an optimal audio experience.
The VBC 2500 Video Bar adds a state-of-the-art, 4K ePTZ camera featuring Biamp Video Intelligence to deliver auto-framing and auto-focus, which keeps meeting attendees in view, even as they move around the conference room space. For added security, an automatic privacy shutter covers the camera when not in use.
Installation of a Parlé conferencing bar is as simple as plugging one USB cable directly into a UC system for a UC room, or into a Devio SCR-10 for a BYOD room, and pressing the Launch button. This initiates professional-grade deployment and tuning, making it easy to use and deploy.
Impera Line of Control Systems: Biamp launched the Impera family of control systems, resulting from the integration of Biamp's existing control products with the Neets portfolio following the company's acquisition in July of this year. Featuring simple configuration-based set up and clear, attractive user interfaces for controlling both Biamp and third-party devices, Impera control systems are an ideal complement to all Biamp installations.
The Impera family of control systems is comprised of a mature portfolio of solutions field tested in hundreds of thousands of installations. The Impera family includes independent controllers, a broad line of control pads (keypads with integrated controllers), and controllable relays. Impera control systems are easily configured with Biamp's Project Designer, an easy and intuitive drag-and-drop program that lets integrators design a room control system and user interface in just minutes and includes built-in support for thousands of the most popular third-party devices.
Apprimo Touch Interfaces: Biamp brought in a new Apprimo Touch 8i, an 8-inch touch control panel. The new Apprimo touch panel combines the ease of use and flexibility of a touch panel with an integrated controller from Biamp's concurrently announced line of Impera control systems, providing streamlined installation and exceptional room control. The Apprimo Touch 8i joins Biamp's newly introduced line of Apprimo touch interfaces, which offer enhanced flexibility in room control and nearly unlimited options in UI design, making it easy to configure, operate, and manage AV equipment in a wide array of spaces, including performance venues, lecture theaters, conference rooms, classrooms, courts, and more.
The Apprimo Touch 8i is Biamp's first touch panel to integrate a touch interface with built-in Impera control technology to deliver a convenient all-in-one solution. Reducing hardware and installation time, the Apprimo Touch 8i features a powerful processor that controls up to 20 IP-based devices. The Apprimo Touch 8i is configured with Biamp's Project Designer, an easy and intuitive drag-and-drop control system design program that supports all Impera control products and lets users quickly and easily design a complete room control system. Project Designer includes a range of professionally designed user interface templates and an extensive device driver library to help integrators deploy attractive, highly functional control systems that support the most popular AV components. The sleek, modern design of the Touch 8i complements any room and offers single cable installation to easily mount flat on a wall, angled on a wall, or on a table.
The new Apprimo product family encompasses all of Biamp's touch interfaces, including the previously released TEC-X control pads, and 4", 7", and 10" touch panels.
Vidi Conferencing Cameras: Biamp announced the launch of Vidi, a line of professional-grade conferencing cameras for meeting spaces ranging from huddle rooms to small and medium-sized conference rooms. The introduction of the Vidi family of conferencing cameras expands Biamp's portfolio of high-performance audiovisual solutions for modern meeting rooms.
The Vidi conferencing camera family debuts with two camera models, the Vidi 100 and Vidi 250.  Designed for small rooms and huddle spaces, the Vidi 100 is a cost effective 4K camera with a 120-degree field of view and a built-in mic array that offers excellent picture and audio quality.
The more sophisticated Vidi 250 is designed for small to medium-sized rooms. It includes a 12MP sensor that supports 4K video with a 120-degree field of view while allowing for electronic pan-tilt-zoom with no image degradation. Advanced features include premium optics that eliminate image distortion and smooth automatic participant framing, zoom, and focus functionality, along with a built-in microphone array. Flexible mounting options let the camera be positioned above, below, or to either side of a display or off any wall. The feature-packed camera is ideal for virtually any conferencing application.