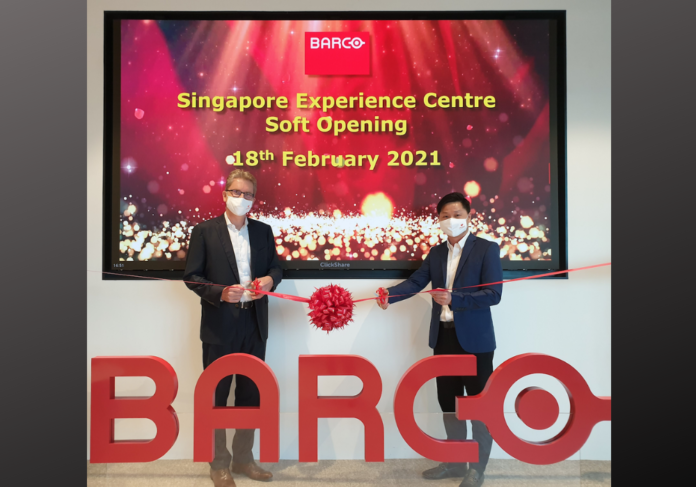 Barco, a global leader in professional visualisation and collaboration technology, inaugurated its new office in Greater Southern Waterfront, Singapore recently. This is the company's headquarters for its Asia Pacific operations and is designed and furnished with the latest video technology to accommodate the new normal of hybrid working. It also features Barco's new Experience Centre which is a state-of-the-art technology centre showcasing the company's latest audio-visual and collaboration solutions in full interactivity. Barco has also started plans to transform demonstrations centres into Barco Experience Centres across the world.
The Experience Centre gives visitors a unique insight into all of Barco's solutions and technological innovations, across markets and industries. These include visualisation solutions ranging from LED Displays and LCD videowalls, to video collaboration tools and image processors. The new office space reflects the trend to optimise available space with an open working concept to create smaller, more multi-purpose areas for a collaborative mobile workforce. Given that most meetings are now video enabled, Barco's facilities in the new office cater to the Bring Your Own Meeting (BYOM) trend. Employees can benefit from the available audio and video peripherals of the meeting space to boost the meeting experience for all participants. These facilities include more huddle spaces fully equipped with Barco's videoconferencing tools such as weConnect and Clickshare solutions. The office also serves as a showroom, providing compelling experiences for visitors and customers alike.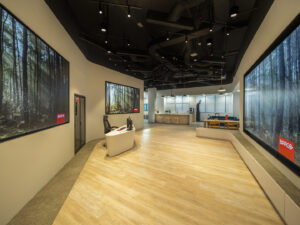 Changes in workstyles resulting from the pandemic have shown that telecommuting and hybrid workplaces are the future for organisations. Barco believes that traditional offices, cubicles and meeting rooms will be replaced by a customer lounge with hot desks, and a virtual classroom that can be transformed into meeting areas. Today, as enterprises look to establish a new normal of working post the pandemic, technology is becoming increasingly critical in ensuring that the hybrid workplace, learning or presentation environment is truly collaborative, inclusive and flexible.
Barco has been preparing for the digital future of work before the pandemic, but COVID-19 accelerated the transformation – pushing enterprises to adopt a truly hybrid model of remote and in-office work and increase business resiliency by embracing workplace transformation at unprecedented speed.
As a leader in the audio-visual industry, Barco's decision to launch an Experience Centre outside of Europe will serve to drive workplace transformation across numerous industries and grow its presence in Singapore and the region. Through our Experience Centre and new HQ office, organisations can enjoy an immersive, interactive experience of the full ecosystem of the next generation of collaboration and visualisation tools, designed for the new hybrid world.
"Barco always been committed to enabling bright outcomes for our customers. We're excited at the launch of our new facilities and we believe they will help organisations adapt to the new environment of hybrid meetings and workplaces," said Olivier Croly, Senior Vice President for APAC at Barco.
"As a result of the pandemic, business and technology vendors including Barco are now selling their solutions virtually. This means it is challenging to demonstrate the capabilities of our products fully and solutions, especially our high-resolution projectors and diagnostic imaging screens. Now, our partners will be able to use the Experience Centre for live demos for customers," said Gan Ta Loong, Managing Director, Barco SEA and Vice President Immersive Experience, Barco APAC.
As companies navigate the learning curve, Barco has also seen an increase in demand for remote working and hybrid learning solutions such as weConnect and ClickShare Conference that help people continue to collaborate, communicate, and operate. "Barco is committed to creating the workplace of the future, leveraging on visualisation solutions delivering exceptional experiences and enabling bright outcomes for customers," added Gan.
Barco has been focused on strengthening its presence in the Asia Pacific region as organisations seek to implement meeting and learning solutions that improve collaboration and productivity.