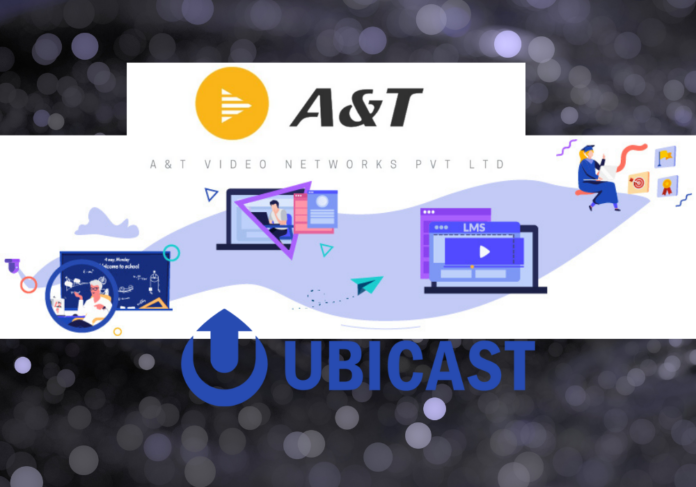 Madhurai-headquartered A&T Video Networks – furthering its VC and Collaboration expertise in Indian market – has brought yet another new solution, with the addition of the French digital and hybrid teaching solutions major UbiCast rich media to its portfolio.
…………………………………………………….
UbiCast recently announced that it is offering its rich media solutions in India through an exclusive and strategic value-added distribution agreement with A&T Video Networks Pvt. Ltd.
Already a leading supplier of Video conferencing systems and video collaboration products in India, A&T Video Networks is apparently aiming at strengthening its leadership position and expand its presence in the video collaboration space with market-leading and innovative rich media services provided by UbiCast.
UbiCast, located in Paris, is a developer of industry leading webcasting products designed to create, edit and publish videos. The company's webcasting products use video for capturing and sharing knowledge and record presentation as well as offering easy-to-use desktop recording tools, enabling clients to get automated workflows and web-based post-production to generate interactivity and social collaboration.
"This partnership with UbiCast comes at a time when educational institutions are reinventing the way they engage with students," says Ashwin Desai, Managing Director at A&T Video. "This exclusive, strategic partnership with UbiCast will enable us to offer world class rich media products and cloud-based services in India for the first time at affordable costs," he said. "We believe that this partnership will help Indian educational institutions deploy high quality learning platforms that help teachers engage with students better, scholars to learn more effectively and overall performance of the institution to improve."
According to him, A&T Video had been providing lecture recording, streaming and digital library solutions to various educational institutions in India for the past 22 years, and made quite a name in the domain.
As part of the new alliance, A&T Video will offer value added services with cloud-hosted content management and webcasting service, system design using UbiCast 4K Recorders and streamers or third-party streamers, and technical support services for UbiCast installations across the country through their partner network.
The Technical team at A&T Video has undergone specialized training on the UbiCast platform to provide Indian customers with a high level of technical and logistic support.
David Manrique, International Sales Director of UbiCast, commented on the new partnership: "UbiCast's goal of bringing our tools across the globe will be made a lot easier with this new partnership with A&T. We are very proud to have a partner like A&T, providing expertise, market understanding and support in this new venture which after months of preparation, discussions and agreements came to fruit today."
"We will now be able to confidently service the Indian market together as trusted partners for years to come," he added.
The Ivry-sur-Seine, Paris-headquartered French major UbiCast produces interactive video solutions for teaching, learning and communicating in a different way.
By developing advanced social learning features, UbiCast has created a leading video platform for higher education and companies to record, edit and spread their knowledge easily in video. UbiCast's ambition is to improve learning and communication by making video engaging, collaborative, secure and durable.