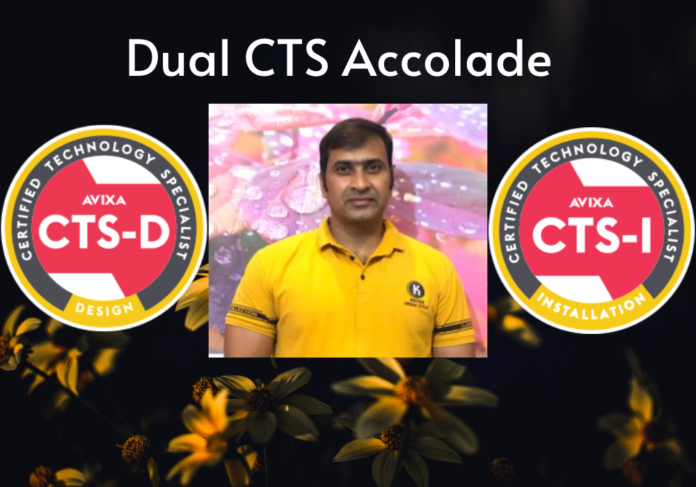 In what can be perceived as a rare feat in professional prowess pursuits, an AV design professional from India has achieved dual CTS distinctions in one go. Chandrashekar Naik S, Director-Design & Deliverables at T2 Consulting Group – the Bangalore-headquartered leading provider of specialized design and consultancy services in the converged technology space – recently achieved the CTS-D & CTS-I in one single go, in a space of just one week.
Considering the widely-held notion that achieving CTS Certification isn't an easy task, getting dual accolades in one go is a commendable display of zeal and zest.
 SI Asia caught up with Chandra on what inspired him why, and more… 
……………………………………………………………..
SI Asia: Congratulations on the dual-CTS accomplishment. How does it feel?
CHANDRA: It's great feeling; a sense of achievement for obvious reasons. Happy that the hard efforts put in turned out to be fruitful. A prideful credential for me, as well as for my company. I celebrated the occasion with friends and family. I took my family for dining out for the first time post-Covid second wave. Such has been the joy.
SI Asia: What inspired you so much to seek dual certification in one go? Commonly believed to be difficult even one by one…
CHANDRA: It's been a long-time desire to do scale up my professional credentials so that it adds value to my work space, to my company, to our associates, and to our clients. It is so much common to come across either CTS-D or CTS-I. Industry is used to seek service/support from different professionals for the respective expertise. Having both the certifications in one mould is a great advantage for anyone as it blends two interconnected skills. That's one.
Two– CTS Certifications allow honing one's skills in processes, procedural essentials, techniques, and best practices in the chosen areas, and help the professional emerge much stronger and compelling proposition for any technology space.
However, in this age of multitasking, and demanding technology traits, having two connected skillsets not only helps keeping abreast with those traits but also ensure they are implemented the way they are intended. Looked in that light, it's always a wishful combination of credentials for any professional and workspace.
Three– admittedly, the free breathing space that was gained due to the pandemic-induced restrictions on the professional operations since the first quarter of last year (2020); It was a never-before opportunity allowing me for active working on this pursuit. Fortunately, it all worked for the good.
SI Asia: How do the CTS credentials help you professionally?
CHANDRA: Like I said a while ago, the quotient of confidence and authority with which one can approach a technology space will be altogether different with a CTS credential at work. If two top credentials like CTS-D & I are coming together, the combination makes a compelling expertise for associates and clients.
For any technology solution to be experiential of the highest grade, installation perfection is as important as the design precision. These two essentials coming in with best practices is what is expected out of CTS certifications, and I carry that to every space I work on.
Further, as design consultant, we play a key role in ensuring the installer involved in each project adhered to the best practices and prescribed specifications. We carry periodical check-ups and final inspection to ensure timely completion, quality and consistency in installation.
Gladly for us 60 per cent of our business comes from repeat clients, and that shows the level of attention we pay to key as well as finer details of projects in terms of educating, managing, supporting the client, system integrator, installer, and allied tradesmen.
Possessing CTS certifications not only elevates the authenticity of what we do, but also how we do, and ensure the missing links with the work associates are properly connected. The depth of knowledge we gain in our journey towards obtaining the certification itself is a great exposure extent of expertise, while the certification is a statement of all that.
SI Asia: What brand value you think this dual CTS trapping stand you & your employer company?
CHANDRA: It would be a statement of our benchmarking the standards and expertise we carry to the client space. An important criterion of our go-to-market strategy. An indication of our direction into the future, with encouraging as many employees in the company as possible to seek similar accolades.
SI Asia: What did you find most challenging on your journey to CTS?
CHANDRA: I realised the importance of staying focused on the target with determination. Consistency in the mindset towards working hard is as important as the optimum use of the time in the preparation run-up to the examination.
SI Asia: How difficult was it pursuing both CTS-D & I simultaneously?
CHANDRA: It was, indeed, tough. My first goal was to complete CTS-D which is my core area of expertise. While I was pretty much focussed on the target, I also realized how important it is to possess strong knowledge about the integration process as well- in terms of methodology, precision practices and other important areas.
While the ambition of simultaneous pursuit of CTS-D & I looked exciting, I soon found it isn't as fancy as one would think. They both comprise vast expanses of subject knowledge which can be handled only through determined focus and hard work.
Having said that, I also must say there is a takeaway too. That both the domains are inter-related, therefore once one gets into the groove, it can be a seamless flow of exposure to the knowledge material.Also, my 16-plus years of standing in the design consultancy, including five years install experience provided the vital base and confidence to go at them.
SI Asia: What would you advise those wanting to seek CTS accreditation?
CHANDRA: Let me recall a David Frost quote here: 'Don't aim for success, if you want it; just do what you love and believe in, and it will come naturally.' So, anyone aspiring to get the CTS or such other certifications, should have the passion towards the job. Keep consistently bettering their work even as they work on their ambitions.
The industry is blessed with so many experts of high repute, and industry associations, with the first reference being AVIXA. So access to the relevant work or material is never a concern. It's the passion one must have, and the world is there to support.