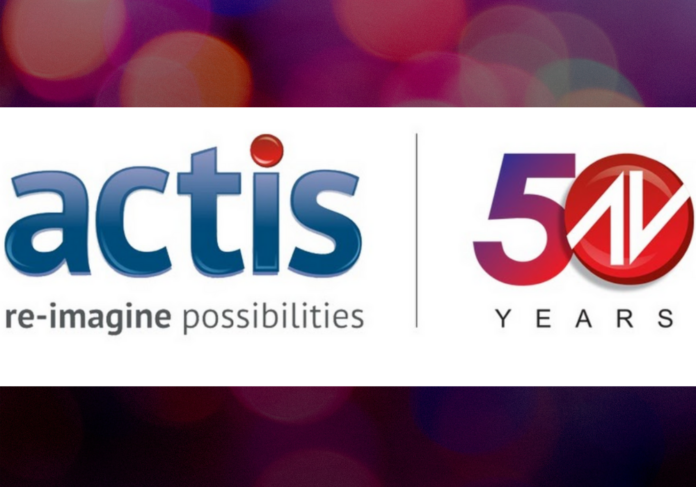 Actis Technologies- the name doesn't need an introduction to anyone connected with Indian Audio Visual industry. Supposedly, India's oldest AV systems integration enterprise – in the strict sense of the term – Actis has completed 50 years in business in 2021. Something truly prideful for any enterprise, and more so for AV domain where we haven't seen many even on global scale.
SI Asia interacted with Actis Technologies Director Abhimanyu Gupta who is responded as astutely as ever on the subject. Read on….
………………………………………….
SI ASIA: Actis is supposedly first Indian SI firm to make this prideful existence of 50 years. How does it feel?
ABHIMANYU: We feel a sense of pride and satisfaction in what we've achieved as a team, though we also see there is a lot ahead of us. It's just good to pause for a moment and look back at the journey and sort of acknowledge that we have come a long way and managed to play an important role in growing AV in India.
SI ASIA: What does it mean to you, personally as the head of the company? and what does it mean to the company as a 'Brand Actis?'
ABHIMANYU: Personally for me it means that we have a great legacy in India's AV industry and the opportunity to build a promising future. It's also a reminder of all the relationships we've had with clients, partners who've trusted and supported us and with the people who've worked here over the years.
For Actis, I suppose it underlines our experience and credibility in completing over 10,000
projects as a systems integrator. It also gives clients the confidence that we can help them build world-class infrastructure that helps achieve their business goals, and be around to support it unlike many others who've come and gone.
SI ASIA: What dynamics in particular characterized the industry then? (at the time of Actis inception)
ABHIMANYU: The first thing that stands out is the extent to which the business environment itself has changed. It was not easy to start up in India at the time and the business opportunities itself were very nascent. The demand for AV was largely driven by the movie industry at the time, and we began by catering to their needs with splicers and other analog editing equipment.
SI ASIA: How have they changed over the FIVE decades? can we say decade-by-decade?
ABHIMANYU: Lots of details here, but will summarise by decade as you suggested…
The 1970s, when we started out as a tiny organisation, the primary market for AV products was the film industry which is where we found a footing. Our focus was on manufacturing and not services like today and exports were an important market.
The 1980s was when we entered the business market for AV products with our overhead
projectors (OHPs). This was dominated by other manufacturers, but we discovered that there was a market for better products and were able to grow into India's largest projector
manufacturer.
The 1990s were about the spread of digital presentation technologies as PowerPoint became a medium of choice for people to present their information and ideas. The business environment in India rapidly changed with liberalisation, and created a fast-growing market for products like LCD Panels, Multimedia projectors and other digital presentation products. We also evolved into our channel business via distribution of these products as they became mainstream.
In the 2000s (starting in the late 1990s), we saw the introduction of many new technologies, and decided to redefine ourselves from a manufacturer to a solutions provider and began working on design and build projects. This was an important shift as large businesses really began looking to improve their communication infrastructure – i.e. early roots of the Pro AV industry in India.
The 2010s have been an evolution of the 2000s as the industry has continued to grow in project sizes (now 100s of rooms), with the advent of new digital technologies and demand for lighting management too. Cloud platforms (especially for VC and collaboration) have become dominant, especially with the coming of the pandemic at the end of the decade.
As AV integration in India has matured, we have seen a shift to standardards being India-led in some cases. We expect this to continue in the coming decade too (the 2020s).
SI ASIA: What specific game-changing technologies do you think have characterized Indian AV in the last five years in particular?
ABHIMANYU:    We were just discussing this a few days ago, which makes this a really interesting question… We think Soft VC or the Cloud VC has had a massive impact on the VC and video collaboration space, changing the cost structures for clients and making remote collaboration much more accessible and flexible for their teams.
In displays we felt that the coming (and increasing affordability) of Active LED video walls has been very impactful. We see them replacing conventional video walls in many large format applications. Their ability to create incredible images even in bright environments, display multiple data sources and even add interactivity is helping them become the preferred choice for boardrooms, training facilities, town hall spaces and auditoriums in India.
Streaming has also played a pivotal role in recent times, more so with the number of meetings, training and conferences held on video exploding.
All of these will continue to evolve in the coming years.
SI Asia: What competencies Actis has built into the company in its 50-year-long existence?
ABHIMANYU: Looking back, I think that our competencies have evolved as the market changed and our approach to market changed. There are many competencies that have been required to make these shifts and we have always been at the forefront in developing them.
We moved from serving the niche needs of the film industry to a wider spectrum of market segments that included government, education, hospitality, corporate and other allied segments
We also moved from being a manufacturer to becoming a solutions provider which involves complex design and project management
SI ASIA: (Similarly,) What particular competencies you think Actis has brought to Indian AV?
ABHIMANYU: In the context of Indian AV, perhaps our contribution has been to:
Anticipate new markets and technologies and to build expertise in them early if we feel that our clients businesses could benefit from them. We invest in giving them "form with live demos in our Experience Centres and POCs to help build confidence."
To build and invest in the systems and processes that support quality delivery (to global standards) — ERP, CRM, Project Management, Collaboration etc. We've been a leader in adopting these technologies in Indian AV industry
To proactively invest in training people and supporting them as they build their skill sets.
We're India's first AVIXA Gold Partner- which is why you will see people from Actis playing roles across the industry including at principals.
 SI Asia: Given the 50-long-year-existence in business, how about Actis's initiatives on the widely held notion of 'dearth of certified human talent in Indian AV?
ABHIMANYU: While we see reasons for this view, we feel that this is not unusual in a developing market. The environment for the SI space came only in the aftermath of liberalisation – which is just about 25 years ago. The global AV industry was also relatively at its early stages then, so the support from principals was low, and they hadn't yet committed to training support for thei      r business in India. In this period, we (Actis, and other Indian AV players) had to build and invest in our own training programmemes without access to the kind of support that AVIXA and manufacturers provide today. So, both the costs and accessibility of global quality training were high.
This is clearly changing though, and we have basically put together a more diverse training framework oriented to boosting certifications that includes AVIXA training programmemes, manufacturer training, and our own in-house training programmeme. Collectively, these initiatives help our team achieve a wider spectrum of certifications.
SI ASIA: We do have industry certifications like, Cisco, Crestron and Microsoft on one hand, and CTS on the other. But nothing specific like a University degree for AV in particular. your take on this?
ABHIMANYU: We hope this will change in the near future. Our view is that with the advancement of network technologies in the AV space, it is likely that the AV and Collaboration specialisations finally get included within the broader "Information Technology" curriculum that universities offer.
SI ASIA:  We do have instances of other Industry domains working in collaboration with Academia to develop competencies and certifications. Why it could NOT happen for AV? Your thoughts?
ABHIMANYU: While this seems a good idea to further develop the skill-base for the AV industry, this may still be some distance away (at least for India). From a young person's perspective, the industry still doesn't have the kind of mainstream appeal that the IT industry enjoys because of the number of job opportunities it creates.
Perhaps (in India) this skilling and certification initiative needs to begin with the vocational training institutions before moving on to the mainstream degree "universities". The focus could also be on "re-training" and certification of professionals from adjacent industries like IT or Electrical Engineers.
SI ASIA: The 'Make-in-India'/Made-in-India' slogan/campaign hasn't really happened the way it was intended, and the stakes for AV are far more obvious. What factors do you think have rendered it so?
ABHIMANYU: Actually this is changing, albeit a bit slowly. I am constantly amazed with the type and quality of products that are now being made in India. With some of the recent PLI schemes and emphasis on being self-reliant with reference to semiconductor chips and electronics at the chip level, this could further improve. As India continues to gain importance as a global manufacturing hub, hopefully some of the major AV and collaboration equipment manufacturers will find the Make-in-India idea lucrative. 
SI ASIA: The pandemic-turning-endemic, and hybrid offices are a fast becoming realities today. What's the biggest a). learnings and b). takeaways from the situation?
ABHIMANYU: Work has probably changed forever, and no one questions the ability of people to work productively even when limited to virtual tools. The Cloud has been the foundation of business continuity and it looks like hybrid work is here to stay. Also, VC is now a way of life for all of us, even our kids, who have mastered the use of Zoom/Teams/Webex even beyond their parent's capabilities.
Organisations will continue to upgrade to Collaboration infrastructure that meets these needs and helps them stay resilient and even grow productivity. The truly innovative organisations are not just adapting, but embracing this change by letting their workforce choose how they want to work.
SI ASIA: What particular technologies, and trends you think will characterize the industry in the coming years?
ABHIMANYU: Looking at what has been evolving in more developed markets, it is likely that we will see increased adoption of Managed Services in India too. As the scale of deployments in organisations grows, there is an increasing reliance on service providers who can keep things running smoothly. Service providers can help with the expertise not only to maintain but also optimise the utilisation of their AV and Collaboration infrastructure.
SI ASIA: All said, 50 Years of business is really something. Where do you want to lead ACTIS to from here?
ABHIMANYU: A future where we are bigger, better, and stronger. We believe that we are at the cusp of another stage of growth in the AV industry, and would like to keep evolving to take advantage of that. We want to be an organisation where our team has the environment for innovative work and our clients trust to help solve the various types of business challenges they may face.