Mumbai-based AV distribution leader Green Sources has partnered with German AV gear manufacturer Lindy Group, for distributing the latter's AV connectivity product range in Indian market.
The coming together of the two companies is a result of their interaction at the ISE 2023, and subsequent understanding of each other's competencies. While the Lindy Group wanted to explore their opportunities in the potentially growing Indian market, Green Sources wanted to expand its portfolio of solutions with a brand of high credentials of quality products and business practices.
"The Lindy Group, coming with over 90 years of industry existence, characterizes not just a grand and long tradition of high quality products but also highly respected business practices and value systems," said Green Sources Managing Director Swadesh Khetawat. "We, at Green Sources, have characterized a business of not only high quality products but also practices," he explained. "Joining hands with Lindy Group was in the fitness of things for us to pursue a quality growth process in India."
Founded in 1932, by Kurt Lindenberg, in Breslau-Germany, Lindy Group has travelled and traversed a long journey from a humble beginning in electric equipment to radio electronics to cabling to a multinational presence in AV connectivity gear.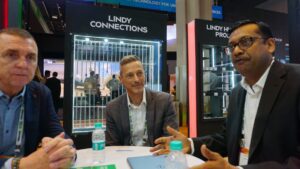 "We have been bequeathed with a grand tradition of value systems blended into a business of high quality products," says Peter Lindenberg, Kurt's grandson, and current Managing Director of Lindy Group. "We pride continuing the grand tradition, and take it to higher levels, and wider places," he explains. "Which is why we're here in India, having seen the potential of the market, and the opportunity to quality growth."
"We met Swadesh at ISE 2023, and we realized the quality, and knowledge of business he brings to place," Peter further explains. "However, we understand business growth is an evolution process, and there are other solution providers like us on the market; we would want to stand out with the kind of business values we bring to market."