In the process of learning, there is always reading, watching, listening, thinking and practising involved. And we believe that grasping knowledge requires not only theoretical learning but also the involvement of practical operations. No matter in which education phase it may be or what kind of education patterns are adopted, learning along with practising is always how a human brain absorbs bits of knowledge and turns the information into long-term memory. In conventional K12 and higher education, we stress theoretical teaching and hands-on practice, and when it comes to vocational education, practical training is even more important for students to master skills.
Different from theoretical teaching, practical training lays more emphasis on practical demonstration. Whether students could "see completely and clearly" determines their learning efficiency and operation accuracy. To meet the application scenario of practical training, Q-NEX has a solution of lecture presentation and recording system, which includes an HD close-up camera, HD full-view camera, video capture station and 4K displays. Through the close-up shooting of the teacher's demonstration and presentation on a large 4K display, the problem of "unable to see clearly" is solved, and students can simply follow the operation steps of an assistant teacher.
Q-NEX has participated in the projects for different educational scenarios. With the case in Guangxi Traffic Technician College, the mobile video capture system was used to shoot close-ups of the internal structure of the car.

At Liuzhou First Vocational Middle School, the system uses 360°hover design to realize professional close-range camera shooting and wireless casting on the large screen for students to observe and learn.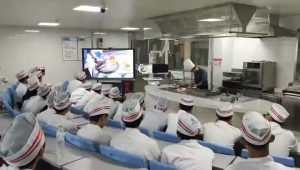 Applying practical training solutions to the automobile maintenance skills course at Harbin Vocational College of Science and Technology and Hangzhou Automobile Senior Technical School.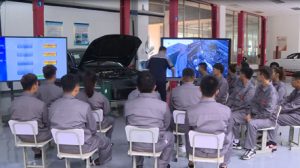 It also offers various functions including professional details shooting, operation-free intelligent screencasting, one tap recording, overall supervision of students, anti lampblack/high-temperature design to Zhejiang Tourism Vocational College.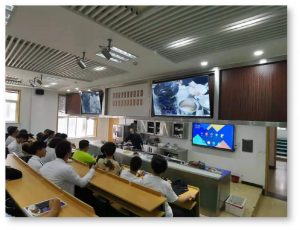 In the case of Tianjin Electronic Information Vocational And Technical College, the system adopts a mobile training cart to take the full range of photos and records the detailed images of the lathe training processes.

As for fusing skills teaching of Zhengzhou Railway Vocational And Technical College, the teaching assistant demonstrates the details of the fusing skills.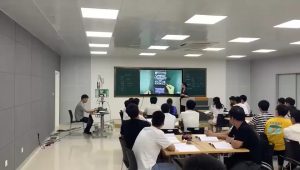 What's more, this practical training system can also be applied to remote learning. For students absent in the class, either far away from the lecturing school, or isolated at home due to covid-19, they can access the curriculum by joining an online class, or reviewing the lecture video after class online.