Founded more than a century ago, the Bochasanwasi Shri Akshar Purushottam Swaminarayan Sanstha (BAPS) is a global socio-spiritual organization based upon the Hindu teachings of Bhagwan Swaminarayan. The organization's global network includes its headquarters in Ahmedabad, India, as well as locations across Europe, North America, Asia Pacific, the Middle East, and Africa.
The recent opening of the new assembly hall at the BAPS Shri Swaminarayan Mandir in Kampala, Uganda – which took place in the presence of the current spiritual leader of BAPS, His Holiness Mahant Swami Maharaj – was one of the more interesting and challenging projects, explains Kaivalyamurti "KV" Swami, BAPS Technology Overseer. The multi-room facility, designed from the ground up, includes a high-tech audio and video system including Dante based connectivity, employing Symetrix DSP, Renkus-Heinz loudspeakers, and video over IP via Visionary Solutions PacketAV Encoders and Decoders, all riding on an Alcatel-Lucent Enterprise network.
The venue's multiple floors called for a fairly complex network of audio and video, fed to and from the main assembly hall, Mandir (worship) hall, dining hall, and several other locations. Part of the requirement was the need to have each floor function independently or be able to share audio and video.
Logistics were among the project's main obstacles, KV Swami reports. "The biggest challenge was product availability in Uganda. Considering that, we decided to source the equipment from the US, bringing with it the challenge of getting the equipment to Uganda. To reduce onsite installation time, most of the equipment was programmed at our location in Stafford, TX, and then repacked to ship to Uganda."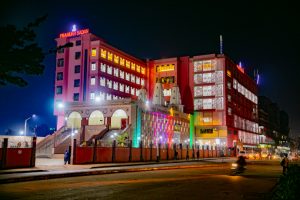 The Dante-based network, powered by Alcatel-Lucent Enterprise, includes audio via Symetrix Prism DSP backbone and Renkus-Heinz loudspeakers, and video via Visionary Solutions, with broadcast PTZ cameras and BlackMagic Design 4K switcher connecting to a range of displays, including Red Dot Logics IMAG LED screens and multiple 65-inch flat screens throughout the facility. As KV Swami explains, the Visionary Solutions systems simplified wide distribution of video over the network.
"Visionary Solutions provided some demo units, and we put together a proof-of-concept at our location in Stafford. When we saw the performance and ease of use, it was clear this would be the easiest and most cost-effective way to distribute video in a multi-story building, by leveraging the Alcatel-Lucent network infrastructure that was being installed."
The easy integration with the IT network infrastructure was a critical part of the project's success, adds KV Swami. "The simple drag and drop functionality and the integration with Symetrix made Visionary Solutions a very practical choice. We were also able to create a few mobile-friendly touch screen control pages, with pre-determined source selection based on user login."
Although the project went smoothly, KV Swami credits Visionary Solutions with excellent support. "While we ran into no issues, Visionary Solutions was always ready to help in any way, including remote sessions. Thankfully, they had provided excellent documentation during the proof of concept phase, enabling us to quickly learn to setup and deploy the system."
Visionary Solutions' innovative technologies and stellar support was a winning combination for the Kampala Hall project, concludes KV Swami. "It is always a pleasure to partner with companies like Visionary Solutions, who have a clear purpose of providing value-added solutions to clients like us. Their commitment to ensure that we were satisfied with the system was one of several comforting factors; very kind and courteous people – friendship over finance."