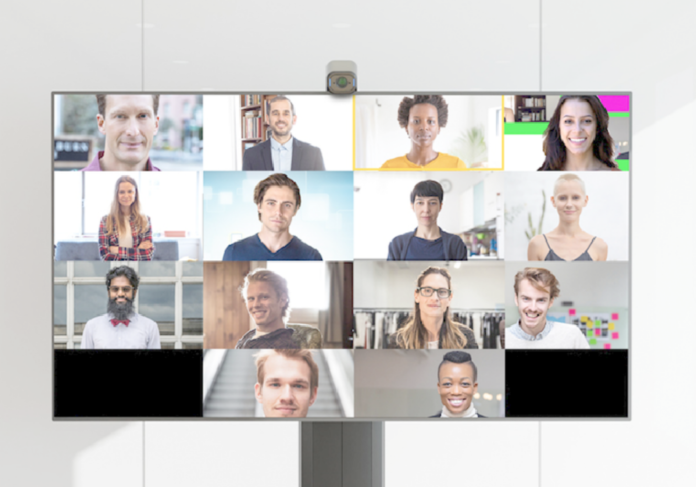 Vaddio, the professional camera brand of Legrand AV, rolled out what it called its most intelligent camera ever- the IntelliSHOT auto-tracking camera. Brought to Indian market by the American AV major's Master Distributor for the country Green Sources, the brand new, enhanced feature-rich camera is claimed to the industry's only auto-framing device that can be adjusted based on the room conditions and user preferences.
Equipped with advanced IntelliFrame technology, the IntelliSHOT ePTZ camera is also taken to make video collaboration and streaming classes easy and effortless. The feature-rich camera brings with it a slew of never-before sophistications such as:
Advanced Intelligent Framing algorithms for pan, tilt, and zoom functions to keep your participants always in view
30x zoom with IntelliZoom Image Processing Technology – 4K Exmor-R Sensor that gives 2-degree field of view
Simultaneous connectivity on camera via USB 3.0, HDMI and H.264 IP Streaming (RTSP or RTMP)
Two integrated beamforming microphones with built-in Acoustic Echo Cancellation (AEC)
Balanced audio line in and out
Compact Form factor to easily fit above display or LCD screen in conference rooms to save space
"Vaddio's IntelliSHOT motion tracking camera is the only industry solution that allows AV integrators to adjust the framing experience for speed, sensitivity and image size," says Swadesh Khetawat, Managing Director of Green Sources.
According to Legrand AV, other cameras on the market that rely on facial recognition fail with facial coverings or falsely identify objects like posters on the wall or woodgrain on furniture as people. IntelliFrame uses a combination of exceptionally sensitive motion detection and complex algorithms to deliver smooth, accurate and reliable participant framing.
"Given the features and advantages that the IntelliSHOT brings along would outperform the earlier entrant cameras on the market," he asserts. "A revolutionary system that is coming a the same price points as most others but not with as many features as IntelliSHOT, it's a sure-win for the customers."
The system is expected to be available in Indian market by end July.
Complete Control: AV Integrators can now promise personalized video performance with every installation. That the IntelliFrame is adjusted via the web interface, it can be fine-tuned remotely by support staff.
Define minimum and maximum zoom levels to ensure optimal image resolution
Define how often the frame of view adjusts and moves
Control how quickly the system adapts to people entering and exiting
Set session presets to fit the rooms unique needs
Further, with a view to addressing situations where full control of the room is demanded, the system facilitates users to override IntelliFrame by simply steering the camera with the provided remote.
Conference with Confidence: The IntelliSHOT is a great choice for conference rooms as people expect great video when joining their Microsoft Teams Room or Zoom Room. The IntelliSHOT has two built-in beamforming microphones making it a great choice for simplifying audio endpoints in small to mid-size conference rooms.
The balanced audio I/O allows for simple integration with 3rd party audio systems. Additionally, the IntelliSHOT has Acoustic Echo Cancellation (AEC) for simplified video conferencing when using the built-in microphones.
Stunning and Smooth Video Quality: The IntelliSHOT is perfect for classrooms and conference rooms with a 30x zoom and exceptional image quality. Capture professors and students from across the room in gorgeous detail with our professional-grade image sensor.
The camera excels in uneven and darker lighting conditions commonly found in large auditoriums or meeting rooms with bright sunlight or shadows. The IntelliSHOT offers 20x true optical zoom and achieves 30x with IntelliZoom Image Processing.
Further, in order to capture perfect images and videos with best possible resolution, the IntelliSHOT delivers full 1080p high-definition video at high frame rates. It smoothly adjusts between presets panning, tilting, and zooming (PTZ) simultaneously for lifelike, professional video results.
Endless Environments: With simultaneous HDMI and USB connections, the IntelliSHOT can be mounted in the back of a room above or below a display – transforming that display into a confidence monitor showing what the camera is capturing via its HDMI output. With the USB 3.0 connection, the camera can be connected to a PC-based recording software or pulled up as the camera and microphone for a Zoom, Teams or Google Meet session.
Like other Vaddio USB products, the IntelliSHOT is truly plug and play without special drivers to download, perfect for bring-your-own-device (BYOD) meeting spaces. Users can as well pair the IntelliSHOT with Vaddio Device Controller touch panel to bring simple, affordable control to the lectern or conference room table. The system offers 16 custom presets and a customizable home preset. Presets can be stored with color corrections and pan-tilt-zoom speeds defined.
Remote Management and Simple Streaming: The IntelliSHOT is PoE+ powered and the ethernet network connectivity allows users to manage and control the system via a web-based user interface. The free Vaddio Deployment Tool application can be used for remote management, remote firmware updates, camera and streaming status, rebooting and more.
Users can as well connect live video content using the H.264 RTSP/RTMP stream to their cloud base services such as YouTube, Panopto and Facebook Live or on-premise streaming delivery network.
The Vaddio IntelliSHOT system package Includes:
·       IntelliSHOT Auto-Tracking Camera (black or white)
·       On-wall mount and hardware (black or white)
·       Cable cover (black or white)
·       6 ft (1.8m) USB 3.0 cable, type A to B
·       PoE+ power injector
·       Vaddio Wireless Remote
·       3.3 ft (1m) Cat-5e cable
·       Quick-Start Guide