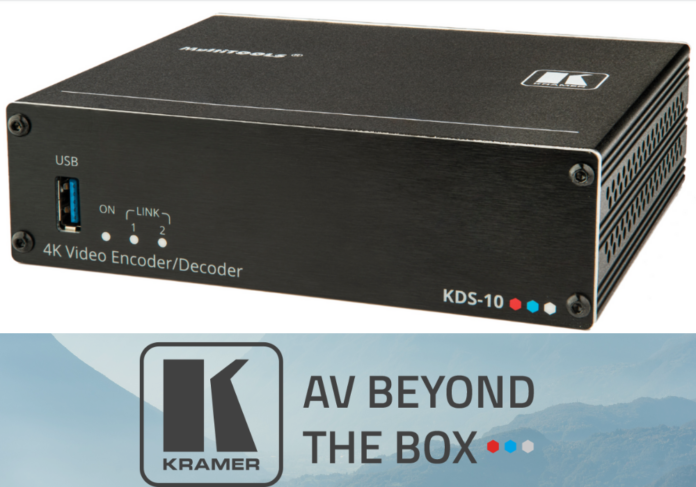 Kramer Electronics is bringing its prideful KDS-10 – first transceiver offering from Kramer portfolio – to India market, on 1 July, as part of the system's global launch that happened early this month.
First debuted to the international audiences at ISE 2020, the KDS-10 is an advanced, dual stream transceiver for streaming 4K@60Hz (4:4:4) video signals via Ethernet over copper cable. The system can be set as either an encoder or decoder. As an encoder, it encodes and streams one or two HDMI inputs over an IP network. As a decoder, it receives the encoded signal, decodes it, and outputs it to an HDMI output.
The KDS−10 has flexible analog audio embedding and de–embedding. When in encoding mode, the user can select the balanced analog audio input to embed into the streaming HDMI output signal. When in decoding mode, the user can extract the HDMI audio signal and output it as balanced analog audio.
In addition, the KDS-10 also has flexible input and output options. The transceiver includes two HDMI inputs that can be streamed alternately or simultaneously as either H.264 or H.265 and packaged as either unicast (one-to-one) or multicast (one-to-many).
That these two industry standard encoding methods offer compatibility with other software and hardware decoding platforms from different manufacturers, it presents a compelling proposition for designers focused on easy, efficient and reliable AV portability over the IP.
More, given the robust compression, the file size of the incoming signal is significantly reduced making it more manageable to stream, store, or transverse over a 1G network, making it an ideal solution for clients who want to leverage existing networks.
"KDS-10 is the first transceiver offering from Kramer; it, therefore, brings all that excitement to both Kramer ranks and Partners, as well as the market," says Bharat Kumar Allur, Managing Director of Kramer Electronics India Private Limited. "The feature-rich and future-proof system comes with a competence to redefine the AV over IP portability," he explains.
According to him, the system allows AV professionals to choose choicest mix of multiple functionalities – depending upon the future software enhancements – thereby presenting a potentially open platform for AV designers to explore their design scapes, and create robust AV over IP environments.
"We are eagerly looking forward to rolling out the KDS-10 to the market space, and seeing the elevation of AV over IP portability to higher level of flexibility, reliability, and efficiency," says the Kramer India chief.
Efficient and Versatile: That the KDS-10 is equipped with H.265 High Efficiency Video Coding (HEVC) which uses approximately half the bandwidth of H.264 it enables AV professionals to deliver 4K streaming over IP more efficiently and reliably. Further, the system's backward-compatible with H.264 makes it all the more flexible solution like never before.
The KDS-10 can be controlled and managed via API, Kramer Unified Enterprise AV Management platform and the award-winning Kramer Control cloud-based control and management solutions, allowing for screen adjustments, remote management and remote services.