In a very unique proposition of sorts, LED solutions major Xtreme Media launched a revolutionary, all-in-one smart boardroom solution for the Professional audio-visual industry, with an array of technology advancements and user-friendly features that eliminates the need for multiple devices in the conference room and unifies them in a single elegant package.
…………………………………….
In what is boasted to be the company's flagship product/system solution, the Mumbai-based LED major brought to the fore the Unify LED display- apparently standing for its name, unifying many a feature of the meeting room environments that have hitherto been handled by multiple devices and cluttered set-ups.
What's more, the company pitched yet another compelling proposition of seven-year-warranty that is claimed to be a world's first ever offering.
The solution was launched and demoed to an invited gathering of AV fraternity in Bengaluru on Thursday, 16 December 2021, alongside the demo of other LED solutions from the company.
Coming in three different sizes of 108, 135 and 168 inches, the Unify display brings to meeting room space a compelling array of user-friendly features such as:
Super fine pixel pitch of 0.9mm, High Brightness resolution (600-800 nits) display with HDR 10 technology, yet augmented by eye-protection mode to safeguard the vision
Quad View Technology that enables users to share content from four different/unique devices simultaneously
Superfast screen mirroring enablement from any device (laptop/tablet/mobile) wirelessly
Built-in virtual collaboration applications like Zoom, and Teams
Device-less meeting enablement with single click; no need for any peripheral like laptop, or tablet, and quick start the meeting with a single click
Complete control of the screen enabling capturing of screenshot, notes, drawings, annotations, PPTs etc.
Real-time status capturing of the display components for critical applications- tracking pixel failure, cabinet voltage, temperature, humidity, and fan speed etc. from the comfort of the control room
No cable clutters and tedious mirroring settings. Just one click on the dongle will connect and enable mirroring the device
All that coming with a seven-year-warranty- claimed to be a world's first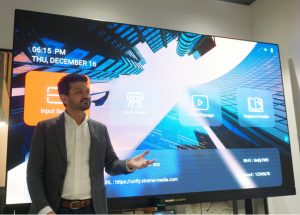 "It's a very simple, yet smarter approach to diverse requirements of meeting room environments," said Sanket Rambhia, Managing Director of Xtreme Media. "It's the result of our research and efforts in response to the customer feedback," Sanket told SIA. "We had been watching for long the multiplicity of devices and cluttering in the meeting rooms, and wanted to simplify all that in an elegant fashion; our customers too had been asking us for such simplification, yet with cutting-edge technology proposition," he said. "Unify effectively address all that, and with ease."
According to him, 'meeting room solution has never been so much revolutionary, yet simplistic. Every feature of the Unify stands it many many notches above the competition in that none of the current market players has such a vast array of offerings (as listed above).
Even while offering as much as 800 nits per sqm with 10000:1 contrast ratio, the Unify is said to consume significantly much less energy than most on the market.
To top it all, Xtreme Media is offering an across-the-board warranty of seven years, he said, irrespective of what solution the customer prefers and for how many years of service.
"It's a whole big package of USPs in one single elegant solution," asserted Sanket.
Noticeably, Xtreme Media does both software and hardware aspects of the display. While software had been its forte, with its own proprietary 'Xtreme Signage' software, the entire hardware – barring the LED encapsulation – too is built by the company.
Understandably, the 5×5 display, 135-inch Unify demonstration visibly awed the AV audiences.
"Features like quad view operation, annotation capabilities, and elimination of cluttering cabling are truly interesting," said Hemant K Naidu of 4CT, a in IoT-focused firm in Bengaluru.
Xtreme Media also demonstrated six other displays as part of the programme. These comprised:
The 2.5 pixel pitch NYX Series
The 2.5 pixel pitch Vega Series
The 2.9 pixel pitch Vega Series
The 0.09 pixel pitch mini LED 4-in-1 Lit Series
The 1.56 pixel pitch Ace Series
The 6.67 pixel pitch Earth Series, and
The 3.9 pixel pitch Rigel Micro Series
The NYX Series, and 2.5 pixel pitch Vega Series come with wired cable connection, with all others being connectable wirelessly.