The AV-ICN Expo 2023 is a stand-alone Expo in hall 2 at Bombay Exhibition Centre, Mumbai. The expo will take place from May 25th – May 27th, 2023. The AV industry attended a full-fledged AV-ICN expo at the same venue in 2019. In 2022 the AV-ICN Expo was merged with PALM Expo as the 2022 edition was captioned as the Reunion of the Pro AV and Pro Audio industry and the organizers put together both the expo in one hall. The AV-ICN Conference was also merged with the PALM Conference.
AV-ICN Expo 2023 has received a tremendous response from the AV industry in one particular sentiment. Whether it was Bengaluru, Mumbai, or New Delhi, the one sentiment expressed by the AV industry was indeed its acknowledgement that the task of creating or establishing an independent AV Expo is difficult and full admiration for the AV-ICN team in pursuing its goal and full appreciation for the objective of providing an alternative expo platform. "The one sentiment that almost every prospective exhibitor has expressed is that, however difficult it is to establish an alternative AV Expo, 'please do not give up'. 'India needs one more AV expo'. Do not give up, was the shout from the AV industry," says Anil Chopra, founding director of AV-ICN Expo.
"It was this sense of responsibility and encouragement that AV-ICN pursued its goal in leading companies like BenQ, Epson, Christie, Optoma to come on the platform. The expo reiterates India's Pro AV industry's quest of possessing an active, determined, dedicated AV platform to connect and convene the mass market of AV integrators & consultants," he adds.
AV-ICN Expo 2023 will again boast of a three-day conference of marquee speakers like Kelvin Ashby-King from Clarity Consulting, Satyanarayana Reddy from The Siemon Company, Kairav Adhvaryu from MNT Technologies, Chandrashekar Naik.S from T2 Technology Consulting, Chaitanya Chinchlikar from Whistling Woods International and Narendra Naidu from Rhino Engineers, to name a few.
Some of the major topics that the expo encompasses include, Design Implications for Large Convention and Expo Centres by Chandrashekar Naik; Holistic Museum Design and Integration by Kelvin Ashby-King; IT of AV Integration, AV Communication and AV Networking by Satyanarayana Reddy; Education – Smart Class by Kairav Adhvaryu; VR / Virtual Production & Metaverse – AV's Frontier Visualization from Chaitanya Chinchlikar; Large Scale Monument of AV Integration from Narendra Naidu.
AV-ICN 2023 theme is Display, Digital Signage and Projection. BenQ will bring latest 4LED projector LH730. Epson will focus on their latest 4K Laser Projectors. Some unique new technologies include the Haptic Touch Wall by Immersion, Maxhub Interactive Flat panels and Vestel's retail visual solution. Chinese major brand Absen will display their products at the show.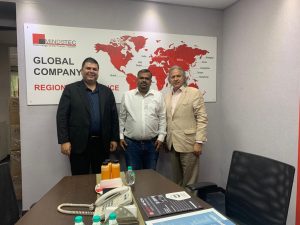 Major distributors have joined AV-ICN – Mindstec Distribution, EIS TechInfra Solutions, Gigatronics, NTEK Systems, Infonics – distributor of Unilumin; Aaztec, Jona LED – distributor of Novastar; Vcore LED Display, Tentech Display, Enbon LED, Vision Display. Other focused distributors for display include Di Impex, Magnimage Display, Hawaii LED, Sunrise LED. Conferencing Systems at the expo will be displayed by Gigatronics and PeopleLink. Studio Lighting for AV projects is covered by Canara Lighting, Leksa Lighting and Aputure.
The fourth edition of CAVS will also be held at the AV-ICN Expo 2023. Featuring faculty such as Kairav Adhvaryu, Narendra Naidu and Satyanarayana Reddy. The main point of the CAVS is original curriculum designed by the faculty.
Special features in AR, VR involving 5G are also being designed this year informed by Anil Chopra. These features will be highly attractive demonstrating latest technologies in 5G streaming and video projection with immersive audio.