Since the live event market opened up to scale in December of 2021, Pune based ace technical services provider SoundEffects By Uday Shah has stayed busy in commissioning some of the best works in the history of the company's illustrious existence.
………………………………………. 
From crowd favorite music festivals like Sunburn, NH7 Weekender, and Trikaal Festival; to countless private and corporate events featuring music big-wigs like Agnee, Kshmr, Pritam, Guru Randhawa, Lucky Ali, Rahul Vaidya, Falguni Pathak, Shalmali Kolgade, Salman Ali, Astha Gill, Stebin Ben, Swarathma … and more; SoundEffects has capably delivered a truly superlative and comprehensive technical solution for every single event during this period – – the kind that you'd expect from a true industry leader. 
And the hours of hard-work, passion and commitment invested by team SoundEffects in putting these various spectacular productions together did pay rich dividend – as the company's efforts were indeed recognized and celebrated at the PALM Expo 2022 – with SoundEffects By Uday Shah being honoured and felicitated with the prestigious PALM Sound & Light Award for Outstanding Sound Rental Company of 2021-2022.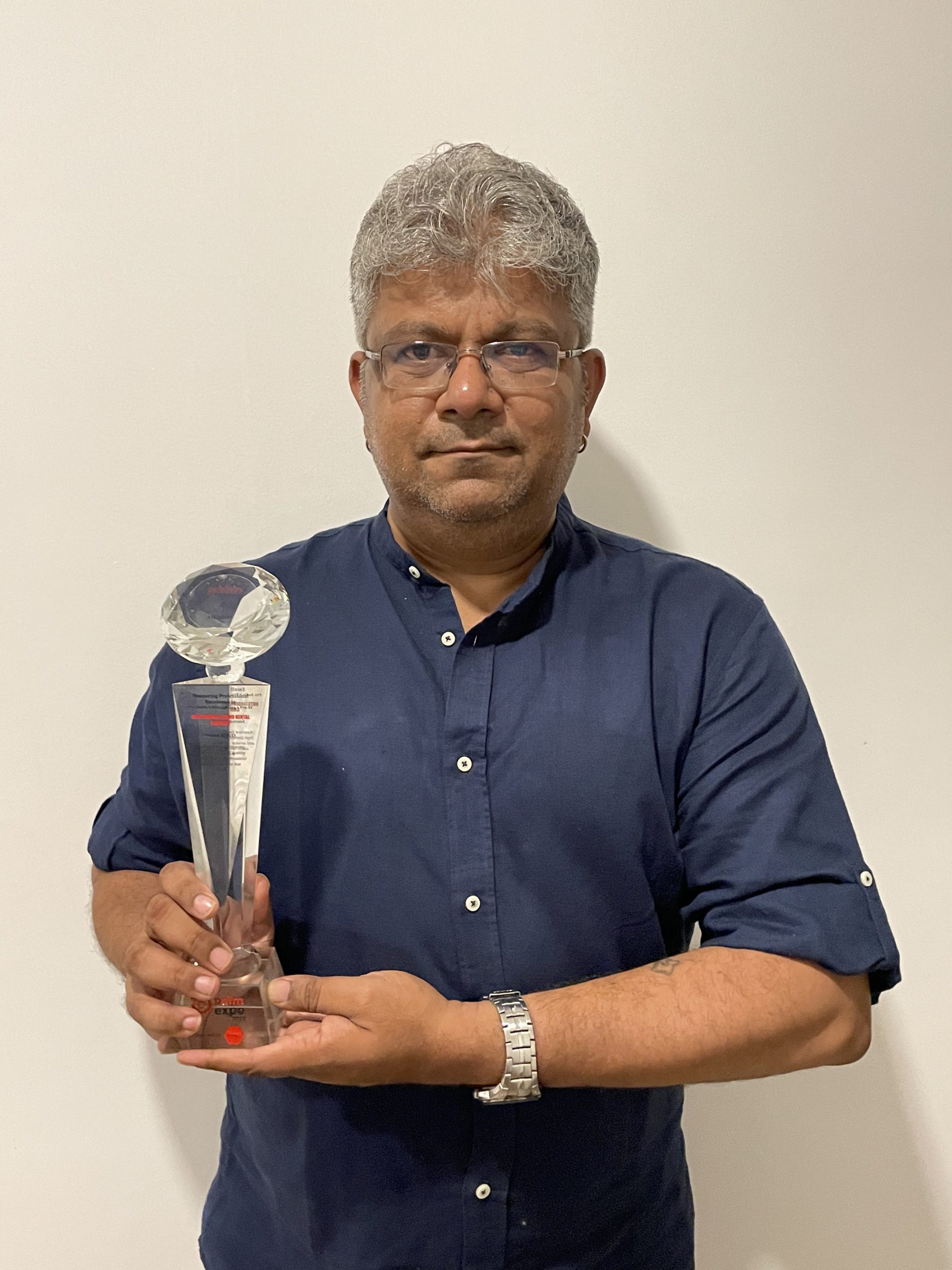 Speaking about the monumental achievement, Uday Shah, Founder of the company, expressed a deep sense of gratitude. "Being appreciated is one of the simplest yet most meaningful experience ever; and I'm grateful to the PALM Expo team for the recognition and for giving us another moment of deep gratitude.
The PALM Expo 2022 was indeed SoundEffects' time to shine; as the company's tryst with emphasizing their technical prowess didn't end at the PALM Sound & Light Award felicitation.
The Harman Live Arena – which is undoubtedly the largest and most popular crowd-favorite feature at the PALM Expo year-on-year – was entrusted into the capable hands of the SoundEffects team to ensure that the 2022 edition of the feature culminated into the largest and most flawless audience experience ever.
With some of live music's biggest names like Sivamani, Runa Rizvi, Dipesh Varma, Darshan Doshi, Aditi Ramesh, MotherJane, Taufiq Qureshi, Louis Banks, and several more gracing the Harman Live Arena stage this year, the feature, as always, was equipped with an end-to-end technical infrastructure from industry leaders Harman Professional – with a stellar microphone inventory from AKG (451B / C1000S /D7 / C5 / D40 / HC81 / D12VR / 214B / DRUM KIT MICS / C411 / C5P / C51) deployed for various vocal and instrumental exigencies and an all-JBL by Harman loudspeaker system wowing the artists and audiences in tow.
The FOH system comprised the all-new VTX-A12 line array system accompanied by the G-28 subs along with the VTX V-20 modules deployed as center-fills and F15 modules along with F18s subs deployed as side-fills.
Multiple numbers of the M20, M22 and VRX915 loudspeakers were deployed at the on-stage artist monitoring system, with the entire loudspeaker system powered through a formidable amplification infrastructure of Crown IT12000HD & Crown IT 4x3500HD power amplifiers (with VRack) and controlled through Soundcraft Vi3000 with the 9U Vi Stagebox deployed at FOH and the Soundcraft Vi2000 with the 9U Vi Stagebox deployed at MON positions respectively.
The technical solution was provided in part by Harman Professional, with the rest being sufficed by SoundEffects' personal inventory – thereby making it a joint-endeavor spotlighted that not just the confluence of not just superior technology but also extremely astute technical minds.
The SoundEffects team worked closely with members from Harman Professional in ensuring a flawless technical execution of the feature on all 3-days of the event, including system setup and de-rigging; with reputed engineers Lakir Mehta and Zahid Khan representing SoundEffects on FOH and MON respectively, and Sudarshan Srinivasan responsible for systems engineering.
Additionally, the SoundEffects stage-tech team shouldered the responsibility of ensuring a completely seamless experience in terms of performance/artist change-overs.
SoundEffects also deployed their personal cache of world-class backline inventory to ensure that artists and musicians on-stage were equipped with only the best gear for their performances.
Summing SoundEffects' first year of direct association with the Harman Live Arena, Uday affirms "This was such a fantastic experience for all of us; and I'd like to thank every member representing the SoundEffects team who put their heart and soul into making the Harman Live Arena an overwhelming success at the PALM Expo this year.