YES TECH is set to officially launch their upgraded Mnano Ⅱ series of LED displays at Screen Your Visual World, an online event in October. This product range offers two cabinet options. One is a regular cabinet with COB encapsulation technology, where the rear cover can be removed (optional). Another is a custom cabinet with IMD encapsulation technology where the rear covers can also be removed. The cabinet structure is simple and easy to operate, measuring 600 x 337.5 x 51.3 mm, while the module size is 150 x 168.75 mm. Each individual cabinet weighs 4.6 kg.
What does COB flip bring?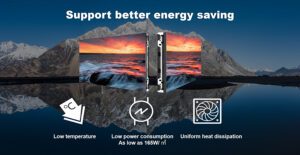 The flip COB technology offers several benefits, including low-temperature surfaces, low power consumption, and uniform heat dissipation. Power consumption can be as low as 165W per square metre, delivering a sensation of a cold screen to viewers.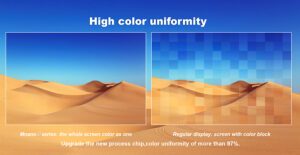 The COB flip chip of Mnano Ⅱ series is equipped with nano-optical composite encapsulation coating. This innovative technology ensures long-lasting ink colour consistency for large-screen applications, delivering high colour uniformity with an upgraded new chip process, achieving a colour uniformity of over 97 per cent, and boasting a contrast ratio of up to 10000:1. The matte anti-glare design minimises reflection, providing a better viewing experience.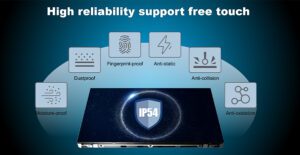 The light board has an IP54 protection rating, which can be moisture-proof, fingerprint-proof, anti-static, anti-collision, and anti-oxidation. It leaves no marks when touched, and offers six-dimensional protection for increased reliability.
What are the advantages of IMD 4-in-1?
The IMD 4-in-1 package expands the area of single solder joints, increases the number of single LED pads, and improves the product's anti-collision force by 2.5 times. It also promises heat dissipation performance and reliability as much as twice that of earlier models. The larger single encapsulation structure allows IMD maintenance and repairs to be significantly more efficient than in other encapsulation methods.
Both COB and IMD encapsulation solutions are currently available in YES TECH's Mnano Ⅱ series — an excellent choice for enterprise businesses, studios, and command and control scenarios.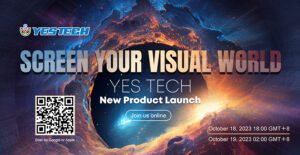 YES TECH plans to launch the Mnano Ⅱ series at its fixed product launch event, Screen Your Visual World, 'live' online, from 18 – 19 October 2023. Register to join the product launch at https://2295b28dd6.live.polyv.cn/watch/4220428
This is a sponsored article