INFiLED and Gravity Visual have teamed up to create a virtual production platform for the Xinertailai Studio in Beijing. This platform consists of a 140 square metre GXII series background screen and a 106 square metre DFII series floor screen, which will be mainly used for TV programme recording.
Xinertailai Studio is one of the most advanced television studios in China. It has two TV show filming locations with a total area of 2,800 square meters, as well as several production control rooms and dressing rooms. In recent years, the studio has provided professional equipment and services to CCTV's speech programme The Voice, Tianjin Satellite TV's job search program Only You, Hainan Satellite TV's interview programme This Is Free Trade Port, and other mandarin popular TV shows.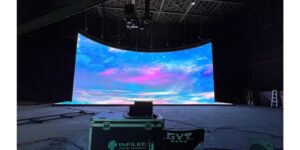 This time, Xinertailai invested in the construction of its virtual production platform, aiming to use high-definition screens to display the program scenes designed by the production team, to make the indoor filming sets more engaging.
The GXII series backdrop set on the platform had a refresh rate of 3,840Hz and a pixel pitch of 2.5mm, which supported a smooth display of screen content; In addition, it featured an even and sufficient brightness with no glare, and a wide viewing angle of 160 degrees, allowing the camera crew to clearly capture scenes during production.
The DFII series screen for the platform floor also had excellent performance. This screen had a strong bearing capacity of 1500kg per square metre, which was enough to safely support the various performances of the actors on it. Moreover, with a contrast ratio of 5000:1 and a high greyscale of 14 bits, it was able to show outstanding colour rendition and present lifelike and interesting scenes together with the background screen.