ClearOne, a leading global provider of audio and visual communication solutions, made a strategic move in late 2022, by shifting its manufacturing operations to Singapore. This decision, which may seem surprising given Singapore's reputation for being a high-cost country, was driven by several compelling factors. In this article, we delve into the reasons behind this relocation, the scope of ClearOne's manufacturing in Singapore, and the various aspects of this transition.
Why Singapore?
Like many companies, one might wonder why ClearOne would choose to move its manufacturing operations to Singapore, a country known for its relatively high operating costs. The primary catalyst for this shift was the imposition of tariffs by the United States on products manufactured in China. ClearOne's main contract manufacturer, Flex, initially handled their manufacturing in Shenzhen, China. However, the advent of tariffs on Chinese-made products eroded the cost advantage of this setup.
Flex also maintains a facility in Singapore, which played a pivotal role in the decision-making process. Products manufactured in Singapore are not subject to these US tariffs when imported, which significantly influenced the cost calculations. Furthermore, Singapore-made products are Trade Agreements Act (TAA) compliant, making them eligible for sale to the US government—a market not accessible to products manufactured in China.
While manufacturing costs in Singapore are marginally higher than in China, eliminating US customs duties and the potential for increased revenue from government sales ultimately made the transition a sound strategic choice. ClearOne retained some cost efficiencies by continuing to use Flex China for printed circuit board assemblies (PCBAs), while the Singapore factory handles final assembly and unit testing.
ClearOne Solutions Manufactured in Singapore
ClearOne's manufacturing shift to Singapore encompasses a substantial portion of its product lineup. This includes the production of Digital Signal Processors (DSPs), beamforming microphone arrays, USB speakerphones, and newly-announced wireless microphone systems. These products play a pivotal role in ClearOne's revenue generation and global market presence.
Timeline of the Shift
Planning for the manufacturing transition commenced in 2021, with the actual shift gaining momentum in the fourth quarter of 2022.
Manufacturing Facility Details
The manufacturing and warehousing facility in Singapore spans an impressive 220,000 square feet across six floors in Changi. Approximately 800 individuals are employed at this facility, with the ClearOne team consisting of about 13 people alongside line operation technicians. ClearOne occupies part of one floor and warehouse space for finished goods. Flex employs modern manufacturing technologies, including robotic systems for material handling. Quality control is primarily overseen by local Singaporean personnel augmented by third-party quality inspectors.
Setting Up the Manufacturing Plant
The process of setting up the manufacturing lines in Singapore was notably streamlined due to ClearOne's existing partnership with Flex in Shenzhen. The manufacturing setup and documentation were duplicated in Singapore, with only minimal test equipment needing to be relocated. Singapore's robust labour supply and Flex's ability to recruit and train workers from Malaysia, just across the Strait of Johor, facilitated a smooth transition. Some Malaysian workers commute to the Singapore factory, residing in company-sponsored housing during the work week.
While the relocation initially encountered some supply chain challenges, particularly in sourcing local materials to reduce dependence on imports from China, it was an overall seamless transition.
Satisfaction and Future Goals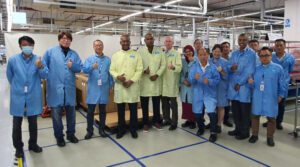 ClearOne's CEO Derek Graham acknowledges that they have achieved a standard manufacturing volume, but the company is actively working to establish a buffer stock. "While it may be premature to declare complete satisfaction, we are optimistic and working diligently to realize the full potential of our strategic shift to Singapore."
ClearOne's decision to shift its manufacturing operations to Singapore is a testament to the strategic considerations that shape modern businesses. While Singapore's higher manufacturing costs may raise eyebrows, the elimination of US tariffs and the accessibility of the government market have made it a favourable location for ClearOne. As the company continues to grow and optimize its operations in Singapore, it aims to solidify its position as a global leader in audio and visual communication solutions.