Robert Bosch SEA Pte Ltd held a two-day Partners Meeting in Singapore. The first meeting was held in the afternoon of March 30th for Pro Sound Partners, while the second meeting was held on March 31st for Public Address and Conference Partners. System integrators and Bosch distributors attended both days, which were hosted at the office's meeting space.
The company took advantage of the Partners Meet to inform attendees of the structural changes to the business units within Bosch serving pro sound, public address, and conference systems clients. The Business Unit Communication (BU-CO) team consists of the following individuals:
Kim Kyoungnam – Sales Director, Asia Pacific
Becky Vo – General Manager, Vietnam, Malaysia and Singapore
Jeremiah Joseph – Sales and Marketing Manager (Pro Sound and Conference)
David Chu – Sales and Marketing Manager (Public Address)
Wong Jeng Yong – Technical Support, Singapore
Susan Kuek – MarCom Support, Singapore.
The BU-CO Regional Team based in Singapore includes:
Daniel Quek – Product Marketing, Public Address
Patrick Hsu – Product Marketing, Pro Sound
Edward Chia – Product Marketing, Conference
Jocelyn Wong – Marketing & Communications
Ronnie Lai – Application Specialist (Pro sound)
Mohd Fadzil – Application Specialist (Public Address & Conference)
At the presentation, attendees were informed that the company still sees supply bottlenecks and rising prices for raw materials but assured those present that the company has a dedicated global team looking to mitigate the situation through spot buying and arranging reliable shipping.
Attendees were also encouraged to use Bosch Building Technologies Academy (Learning Management System-LMS) to continue to upgrade their knowledge. Twenty training programs are available for free, and the company plans to expand to Master Level Classroom Training in 2022.
Bosch also highlighted their Integration Partners programme as part of a holistic approach. These included working with camera manufacturers Avonic, Sony, Lumens and Panasonic; video switchers manufacturers Extron and tvONE and Extron for Room control. There are plans by the company to work with more manufacturers where the solutions complement and help provide a seamless experience for customers.
Attendees were then brought through the roadmap and plans for the pro sound, conference and PA systems according to the respective day's target audience. Also highlighted and demonstrated were the latest solutions.
Key takeaways from the two days event included:
– Demonstration of the Dynacord SONICUE software and how it helps system integrators and sound engineers resolve issues quickly. SONICUE's new user interaction design ensures operators have direct access to every sound system parameter, even directly from the loudspeakers. The system logic in SONICUE running on MXE Matrix Mix Engines allows complex system functions for control, monitoring and supervision without programming knowledge. Custom user controls will enable the system designer to provide customized control elements for the end-user. User control panels run independently in SONICUE Control, the panel viewer app for PCs, TPC-1 touch panel controllers and iOS devices.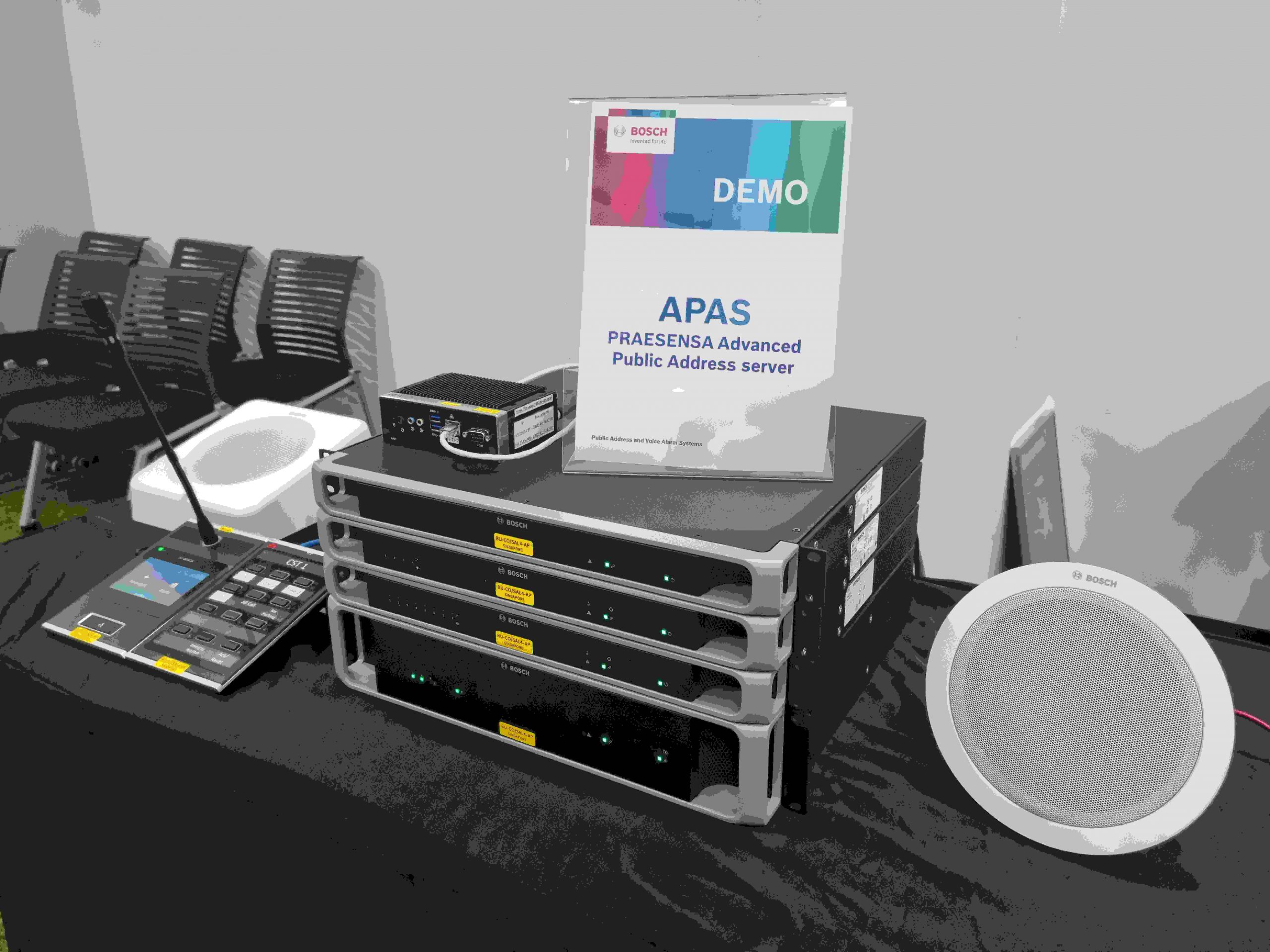 – The PRAESENSA Advanced Public Address server (APAS) features were also demonstrated. The APAS allows for an operator client such as a PC workstation or a wireless tablet to interface with the PRAESENSA system via the IP network. It adds advanced business-related public address functions and provide the operator with an intuitive graphical user interface, controlled by a mouse or touch screen. A headset, connected via USB or Bluetooth to the operator device, may be used for voice announcements and audio monitoring. The APAS also provides a secure internet connection for internet radio, online music streaming, and text-to-speech service. When connected to the Dynacord MXE5 Matrix mix engine via the network, the PRAESENSA PA system is able to override the Pro-sound live systems and broadcast pre-recorded messages, live announcements or emergency messages to both the Bosch PA speakers and Electro-Voice speakers.
– The DICENTIS system was set up in a hybrid meeting setup. The Conference system was tied in together with the VC system which allows the Far end to be heard on the delegate unit without the need of having additional loudspeakers. Having this capability would allow clean and clear audio to be sent and received with the VC system.
– The presenters also explained the ability to integrate our PRAESENSA and MXE together as one complete system. This integration can work in a case of a silent discussion room where everyone is wearing headphones to hear the discussion and then there is a fire evacuation announcement, that announcement can be fed back into the DICENTIS conference system. This is the power of integration with Bosch solutions.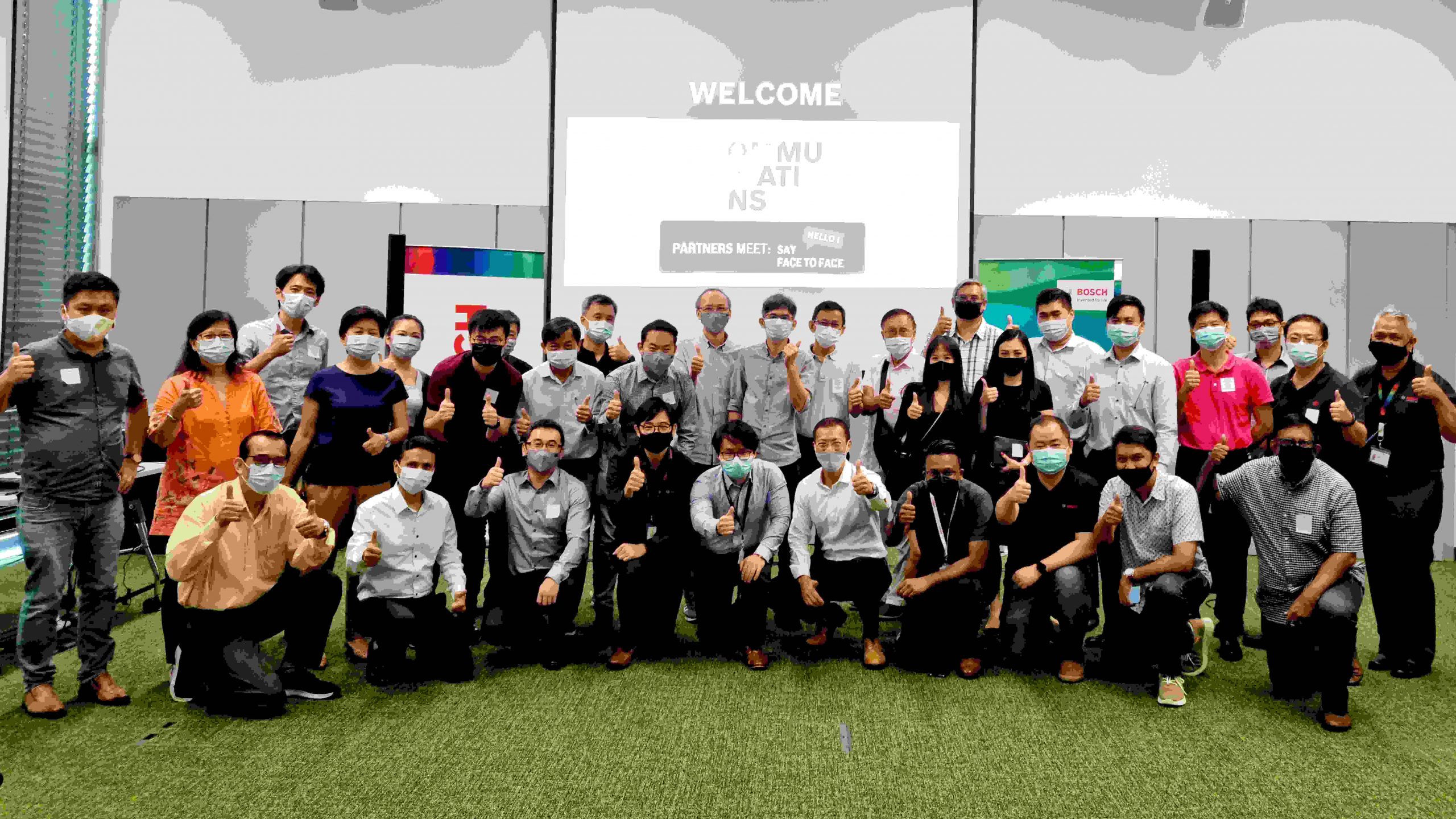 Both evenings ended with bites and drinks at a cafe at the Bosch office premises – something that the industry has not enjoyed for the past two years. It was great to see the mingling, networking and happy faces.