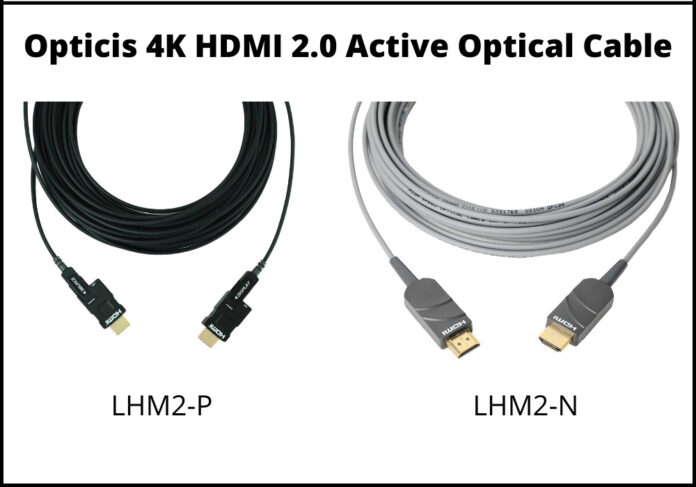 Last July, Opticis acquired Active Optical Cable (AOC) related assets from LB Lusem. As a result, Opticis has the capability to manufacture various AOC line more efficiently, and design and develop diversified AOC products. Opticis will continue to provide the best fiber-optic digital links of quality customer needs.
As part of the acquisition and meeting customer needs, Opticis has launched the HDMI 2.0 active optical cables, LHM2-P and LHM2-N. LHM2-P and LHM2-N are designed for critical display applications that demand flawless HDMI signal integrity and it provides transparent signal transmission over plenum graded cable (optional: LSZH or TPU graded). It delivers 4K HDMI 2.0 4096×2160 at 60Hz (RGB & YCbCr 4:4:4) signal up to 100m (384ft). It avoids any scaling or data compression for lessening the burden of data transmission.
LHM2-N is a fixed-end AOC that operates without an external power supply. LHM2-P offers perfect flexibility during installation by separating HDMI connector parts and cable part. Both cables give slim, light, easy installation like a general copper HDMI cable.
LHM2-P and LHM2-N are compliant with HDMI standards like CEC, EDID & HDCP 2.2 for better installation flexibility and compatibility.