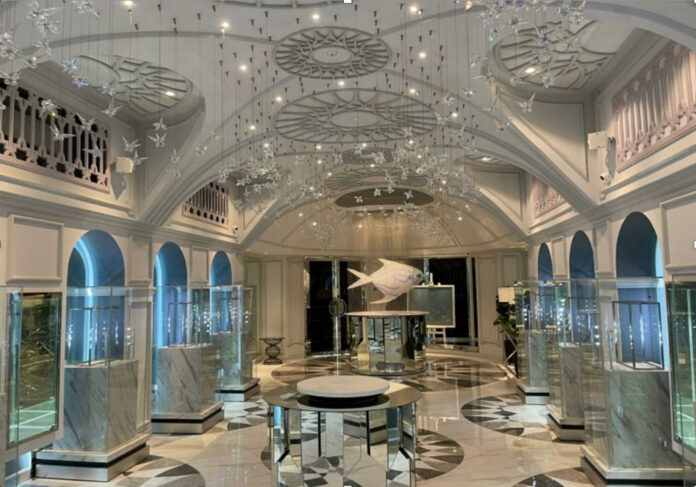 Located just outside the Malaysian capital of Kuala Lumpur, the Crystal Lounge provides a prestigious venue in which to showcase the Bawal Exclusive range of luxury headscarfs, famed throughout the world for their Swarovski crystal embellishments. Part of the visitor experience is a carefully curated music playlist, delivered through a high-quality sound system, achieving even coverage throughout the dramatic interior space.
When considering its design, it was clear the sound system at the Crystal Lounge needed to make its presence felt sonically, while keeping its visual impact to an absolute minimum.
So, the owners turned to Kuala Lumpur-based AV technology specialists Concept Associates, who quickly concluded that NEXO's ultra-compact ID14 would be the perfect speaker for the job.
Measuring just 130mm x 130mm x 120mm (5.1″ x 5.1″ x 4.7″) and weighing only 1.7kg (3.7lbs), the ID14 employs a single custom-designed coaxial driver in a robust Polyurethane cabinet. But despite its super-compact size, the ID14 achieves a full frequency range of 120Hz to 20kHz with a peak SPL of 116dB.
Critical to the success of the ID Series in prestigious retail installations is the option to choose HF dispersion characteristics, the flexibility of the mounting options and the availability of the cabinets in a range of custom colours. In this case, the standard white boxes fitted the colour scheme at the Crystal Lounge perfectly.
Low-frequency response is extended down to 50Hz by the equally compact IDS108 sub, which is hidden from view completely.
Commenting on the installation, Royce Lee at Concept Audio says, "The ID14 is perfect for high-end retail spaces like the Crystal Lounge. It's almost invisible in the space, and it sounds amazing."