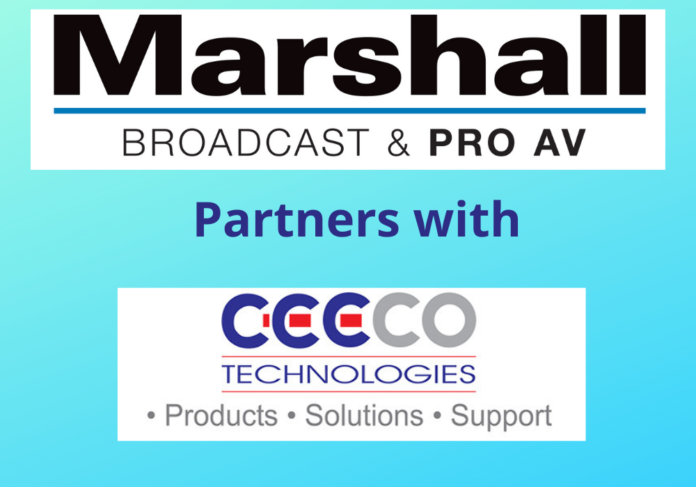 Marshall Electronics, a trusted provider of high-quality and reliable video, audio, and multimedia systems for broadcast video, pro A/V, pro audio and OEM applications worldwide, has named Ceeco Technologies as its distribution partner for India. A key component of the distribution partnership will be the promotion and sales of Marshall's UCC products lines, which include its popular USB cameras such as the CV610-UB.
As a result of Marshall's rapid growth within the United States and various international markets, the company was looking for a focused distributor from India operating in the pro A/V and UCC markets. With this partnership, Marshall and Ceeco will provide seamless and comprehensive support to the region.
"Marshall is excited to be working with Ceeco Technologies as their reach and expertise in the India market will be a great resource for us," says Tod Musgrave, Director of Cameras at Marshall Electronics. "Marshall is excited to expand its geographic focus to India covering major cities like New Delhi, Bangalore, Hyderabad, Chennai, Mumbai, Pune and Kolkata, through Ceeco."
Marshall USB cameras offer crisp, clear broadcast quality images with the versatility and convenience of USB outputs for video conference, remote collaboration, video streaming, remote learning and computer capture. The influx of remote work applications has created an increased demand for these products worldwide due to their ease-of-use and high-quality images. The Marshall CV610-UB USB 2.0 PTZ Camera, the most recent addition to the USB line, is designed to easily integrate into common software platforms for teleconference, UCC, and huddle spaces. At a small footprint (148 x 132 x 161mm), the CV610-UB is a high performing USB 2.0 camera at an affordable price point. The CV610-UB is ideal for delivering next-level performance for a range of applications.
"Ceeco Technologies provides the focus and commitment to customer service that Marshall is looking for," says Rahul Bhasin, Director, Ceeco Technologies. "Ceeco Technologies is excited to expand its offerings to include Marshall's product portfolio and will carry forward its customer-centric approach and operational strengths to India's ever-growing market."
Over 30 years into distribution of customized AV/UCC solutions Ceeco brings to place a unique approach for pre-planning, implementation, and completion of projects to their customers through a network of dealers and partners.