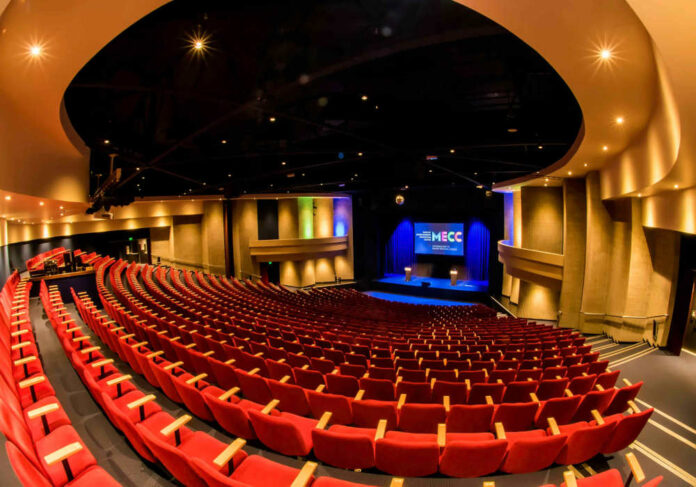 Known as the largest convention and banqueting facility between Cairns and Brisbane, MECC is the Mackay region's premiere entertainment and performing arts venue. Its facilities include a 1,000-person main theatre, large flat floor convention centre with multiple meeting rooms, and a total of nine hireable spaces. The Griffyn 4K32-RGB has been fitted in the main theatre to deliver vivid projections on a large 10-meter (33-foot) screen. In addition, MECC also acquired three Christie D13WU-HS 1DLP laser projectors for use in the meeting rooms of its convention centre. The projectors were supplied by leading technology integrator, Diversified Australia.
"We are delighted to become the first facility in Australia to deploy the Christie Griffyn 4K32-RGB, which is designed for demanding large venue applications," said Mark Blake, Head of AV at MECC. "Likewise, we're pleased to have the feature-rich Christie D13WU-HS laser projectors fitted in our convention center to deliver bright and high-quality visuals that will mesmerize our clients and guests during various events."
As a major events and performing arts venue, MECC has a highly diversified clientele ranging from multinational mining companies to local dance schools that have unique requirements from a visual perspective. "As we are replacing some of our ageing lamp-based projectors to better cater to the needs of our clients, we needed an advanced and reliable projection system that's not only easily serviceable, but can also serve us well into the future," Blake explained.
He added, "The Christie laser projectors are our preferred choice due to their high-quality image production and price point for features. We are particularly impressed with the Griffyn 4K32-RGB for its high-brightness output, as well as its astounding color reproduction that enhances the audience experience."
Describing the installation process as a seamless changeover from the existing projectors, Blake noted that his team was able to fit the Griffyn 4K32-RGB in the same space as the previous projector without impacting existing services and sightlines. This was accomplished with the creative use of aluminum truss and mounting hardware for the Griffyn 4K32-RGB. All projectors were installed and commissioned in August 2021.
"The Christie laser projectors are top-tier products that deliver great results for us and our clients, who are expecting high-quality visuals for their events. Our clients are amazed by the difference in quality between the Christie products and our previous projectors," said Blake. "I am certainly happy with the outcome as not only are we able to meet the current demand for quality images, but can continue to keep up with clients' rising expectations in the near future."
John Musch, Business Development Manager for Australia and New Zealand, Enterprise, Christie, commented, "MECC is a well-known entertainment venue in Queensland, and we are very pleased that it has become the first facility in Australia to be fitted with our state-of-the-art Griffyn 4K32-RGB laser projector that features Christie's superior electronics and proprietary RGB laser illumination architecture. Together with the dependable D13WU-HS laser projectors, MECC is ready to create truly unique and enriching audience experiences."