Creating fancifully large iconic structures may be a thing of pride and ambitious vision for many. But this one – the Dhono Dhanya auditorium in Kolkata – might even go beyond, into a transcendental frame- at least from what it appears from the outset. Typified in shape, size and scale – like a massive conch shell radiating musical notes – the new convention centre in the 'City of Joy' sounds and looks really one.
A Government of West Bengal Initiative, the new cultural venue is a creative combo of Stup Consultants for structure, and Clarity Consult, HAVI Design, with a host of OEMs for AV texture.
A snappy SIA exclusive this month…
……………………………………….
Kolkata has a new grand iconic Convention Centre in Alipore- inaugurated last week by the State Cheif Minister Mamata Banerjee. A very ambitious initiative of the West Bengal Government, the inspirational building is designed Assystem Stup Consultants around the Conch shell symbolizing musical performance and communication.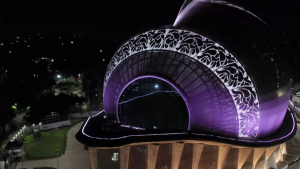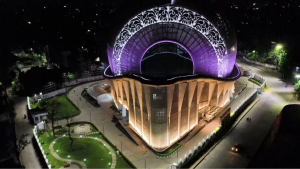 While the Alipore area has already been undergoing a massive redevelopment towards becoming a cultural hub for the 'City of Joy' with the recently opened Alipore Jail Museum and many other cultural projects getting underway, the Dhono Dhanya Auditorium has apparently emerged as centerpiece and connoting conch for all that.
This state-of-the-art facility has a 2,000-seat main auditorium, 400-seat mini auditorium, a Street Theatre for 300 people (standing), an exhibition hall, and a banquet hall for 1,000 people, apart from swanky spacious lobbies, and circulation spaces.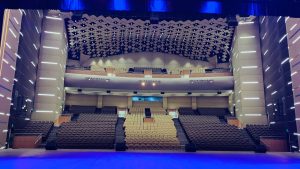 The brief from the client was to create an international level theatre and auditorium complex suitable for international, national and local touring shows, musical and cultural events, lectures, public meetings etc and it was to be based on European theatre design with stage lifts, revolves, scenery flying systems, latest technology stage lighting and extremely high end audio and video systems.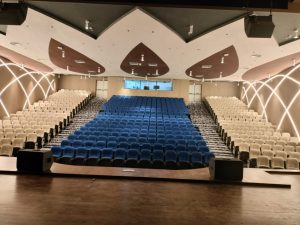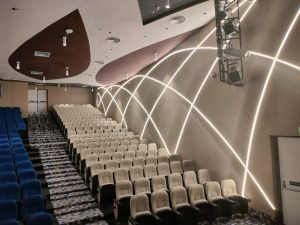 Assystem Stup and PWD/NBCC engaged Clarity Consulting to consult on the theatre design, acoustics, audio visual, stage lighting and stage systems, and architectural and facade lighting designs. With Clarity having already made its credential big with their successful completion of the massive Bangla Biswas State Convention Centre also in Kolkata in more or less similar dimensions, it was an arguably proven case and choice for both the client and solution provider.
Clarity took the ambitious brief and designed the massive edifice into a complex of specific solutions for each venue as well as a holistically one venue- thereby making all the inner constituent facilities inter-connected with Dante and Fibre Optic cabling for both audio and video.
New Delhi-based HAVI Designs LLP – a group concern of Hitech Audio Systems Pvt Ltd – landed the prestigious project for systems integration, install and commissioning.
The main 2000-seat theatre has a high-performance Bose Area Match Array System with three stacks and flown sub bass, Balcony delay speakers and low level front fill providing a system able to deliver 100+dB with a uniformity through the complete space front to back and seat to seat of +/- 1.5dB and .5dB respectively.  This is powered by Bose Networked amplification and BSS Processing.  A Soundcraft Vi500 audio mixing desk and Soundcraft fibre based stage boxes were also deployed.  Microphone systems are beyerDynamic wired and wireless with remote antenna, with Sennheiser Cardioid Lectern Microphones.  JBL Stage Monitors were also used and the PA for Green Rooms etc was also from Bose.
The AV Brands singing at Dhano Dhanya
·       Beyerdynamic                         Bose                           BSS
·       Canara Lighting                       Christie Digital             Crestron
·       Kramer                                   Lightkraft                    Samsung
·       Sennheiser                             Soundcraft                   Xtreme
Crestron was used for the main video distribution 32/32 Matrix with fibre optic and copper cabling solutions from Kramer for both audio and video signal movement.  Scan conversion equipment was also supplied by Kramer. Crestron was also selected for the control systems with wired panels being used in the control room and wifi panels for stage presenters.
All venues in the building are also cabled broadcast-ready with fibre based video/audio links provided in the car-park for Outside Broadcast Vans and audio/video pickup points for press in each venue.  A Sony 4K stagemonitor and relay camera are provide for both stage and audience.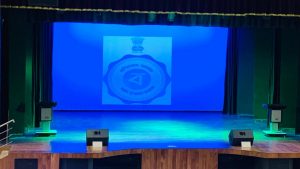 The main auditorium also features a 17m x 9m 4mm pitch LED source view video wall which is planned for later installation.
Digital Signage is provided to relay performance video and signage content to displays located at each entry point and through out all public area and circulation spaces in the building.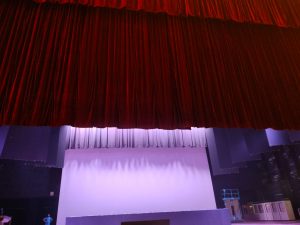 The stage is equipped with full flying systems for all stage requirements, 12 Scenery Bars, 5 Lighitng Bars, Valance, Borders, Wings and Centre Opening and Flying FOH and Mid-stage curtains and Flying Cyc curtain.
Provisions have been made for later addition of 3 stage lifts and a 10m revolve to be installed in the future.
The building features very unique facade lighting with backlit punched metal panels wrapping around the building forming a flower motif on the Conch Shell – a first of its kind feature in India – and the success of this exploit has a very expert contribution from the NBCC, Clarity, and lighting vendor LightKraft.
The mini auditorium is provided with 400 seats, Bose Stereo Array and Floor Mounted Sub Bass, JBL Stage Monitors and Bose PA for Green Rooms.  Bose amplification and Dante Network along with Soundcraft audio mixing desk.
Video distribution is the same as the main auditorium but as this will be used for film festivals a Christie 22000 ANSI Lumen Cinema Projector has been provided allowing for all formats to be displayed on the Cyclorama Screen.
Winched based stage system have been provided in this venue due to restricted ceiling height means full flying is not possible and this is configured similar to the main auditorium.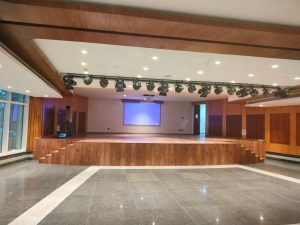 Both the Street Theatre and Banquet Hall are provided with Bose PA/BGM audio solutions.  Video output points for relay audio/video input and output are provided to enable content to be shared between all venues.
Public Area and Circulation Spaces PA/BGM has also been integrated Bose solution.
While the unique design of the building was itself a very potentially challenging thing for installation and integration of AV systems, the structural changes with increased seating capacities in the internal venues made it all the more complex to test the expertise of the AV teams.
The client wanted to add 400 seats to the hitherto designed 1600-seat capacity Main Auditorium, thereby making it a 2000-seater hall made it extremely challenging. For, it needed all the stake holders – HAVI Design for AV, Canara Lighting for stage systems, Clarity and NBCC for design and acoustics, besides the teams from HVAC and others.